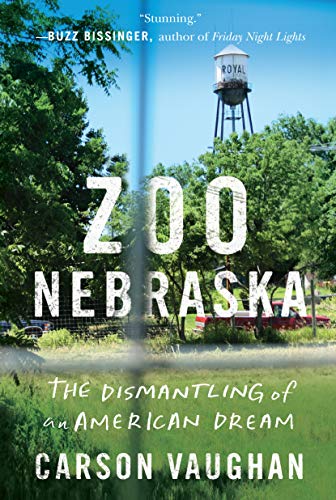 Written in the tradition of some of our best American reportage—think Susan Orlean, John McPhee, Truman Capote,  or "This American Life"—Carson Vaughan's debut, ZOO NEBRASKA: The Dismantling of an American Dream is a timely requiem for a rural America in the throes of extinction.
Royal, Nebraska, population 81, is a place of characters out of central casting, rural charm, and deep dysfunction. It is a Great Plains town that failed to flourish—until Royal native and primate enthusiast Dick Haskin returned to his hometown with Reuben, an adolescent chimp, in the bed of a pickup truck and transformed a trailer home into the Midwest Primate Center. From that ill-fated August 1986 decision, Zoo Nebraska grew, and transformed a desolate town on the brink of despair into a popular tourist destination over the next two decades. With financial support from Nebraska native Johnny Carson, the primate center at Zoo Nebraska flourished, and ultimately became home to 60 animals across 7 acres.
But greed, small-town politics and power struggles, inept financial dealings, and myriad personality clashes led to the demise of the zoo. It finally closed its doors for good in 2005 after four of the beloved chimps escaped and wreaked havoc on the town of Royal for hours, terrorizing its residents. In an act of final desperation, three of the chimps were shot and killed by locals, a devastating and tragic end to the zoo and its inhabitants. 
As Studio 360 host and bestselling author Kurt Andersen writes, "ZOO NEBRASKA is Great Plains Gothic, Fargo meets S-Town meets Alexander Payne, a riveting tale of quixotic hopes and dreams and bad blood, all of it carefully, knowingly, sympathetically told."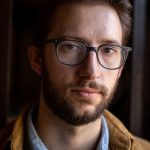 Carson Vaughan is a native of Broken Bow, Nebraska. A freelance journalist who writes frequently about the Great Plains, his work has appeared in the New Yorker, the New York Times, the Guardian, Paris Review Daily, Outside, Pacific Standard, Slate, The Atlantic, Vice, In These Times, and more.  ZOO NEBRASKA is his first book. You can see more at www.carsonvaughan.com.
ZOO NEBRASKA is a resonant true story of small-town politics and community perseverance, and of decent people and questionable choices.  I look forward to your coverage.
"A marvelous, meaningful book, full of deep reporting, fine writing, and big questions about the nature of community, of living with animals, of challenging values. Zoo Nebraska will surprise and engage you and make you think."
—Susan Orlean, author of New York Times bestsellers The Library Book and The Orchid Thief
"Zoo Nebraska is the kind of delightfully unexpected book that comes along once in a blue moon. The subject, the bittersweet and hilarious collapse of a once-charming zoo in a once-charming Midwest town, is as unlikely as it is wonderful. The chimpanzees run wild, and away we go. Carson Vaughan writes with eloquent meticulousness. He has a novelist's eye. The overall impact is stunning."
—Buzz Bissinger, author of Father's Day and New York Times bestseller Friday Night Lights
"Reading like a sustained segment of This American Life, in a tone at once dryly comic and doleful, this account of bizarre events in northeastern Nebraska paints a portrait of the entire region and suggests a metaphor for mankind in general. Well observed and crisply written."
—Alexander Payne, Academy Award–winning director of Nebraska and The Descendants
Best Regards,
Suzanne Williams, Shreve Williams Public Relations
908.375.8159 / suzanne@shrevewilliams.com