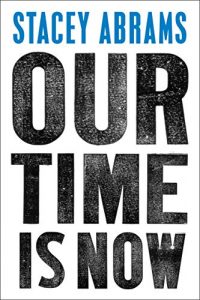 Stacey Abrams to Write Book on Voter Suppression for Holt 'Our Time is Now' Scheduled for June 2020 Publication
Stacey Abrams, the Atlanta-based politician who rose to national prominence when she ran for governor of Georgia in 2018, will write "Our Time is Now: Power, Purpose, and the Fight for a Fair America," about ending voter suppression, it was announced today by Holt, the publisher of her previous nonfiction best-selling book, "Lead From the Outside" (published in hardcover as "Minority Leader"). Serena Jones, executive editor, will edit the new book, which was acquired from Linda Loewenthal at the Loewenthal Agency for North American and audio rights. Publication is scheduled for June 2020.
Abrams knows firsthand that voter suppression is plaguing America's elections and undermining the democratic process, and that it shows no sign of abating unless there is immediate action. Her race against Brian Kemp in last year's election for the governorship of Georgia was marred by voter suppression conducted by her opponent, who oversaw the election. In her new book, Abrams calls for action by voters to change the systems and bring true democracy to the polls.
"The future of our democracy depends on correcting all that is wrong with our elections process, including the insidious practice of voter suppression," said Abrams. "And we must remind voters of their power to be seen and to demand action not simply on election days but every day.
Drawing on extensive national research from her voter rights organization, Fair Fight, as well as personal anecdotes from her own experiences, Abrams will implore voters to demand reforms before the 2020 elections in November. She believes firmly that all forms of voter suppression can be stopped by empowering the populace to act now and in effect, "Our Time is Now" will serve as a blueprint for this change.
ABOUT STACEY ABRAMS
Stacey Abrams is a New York Times bestselling author, serial entrepreneur, nonprofit CEO and political leader. After serving for eleven years in the Georgia House of Representatives, seven as Minority Leader, in 2018, Abrams became the Democratic nominee for Governor of Georgia, when she won more votes than any other Democrat in the state's history. Abrams was the first black woman to become the gubernatorial nominee for a major party in the United States. Witnessing the gross mismanagement of the 2018 election by the Secretary of State's office, Abrams launched Fair Fight to ensure every Georgian has a voice in our election system. Over the course of her career, Abrams has founded multiple organizations devoted to voting rights, training and hiring young people of color, and tackling social issues at both the state and national levels including Fair Count— to ensure that the 2020 Census is fair, accurate, and counts everyone. She is a lifetime member of the Council on Foreign Relations, the 2012 recipient of the John F. Kennedy New Frontier Award, and a current member of the Board of Directors for the Center for American Progress. Abrams has also written eight romantic suspense novels under the pen name Salena Montgomery, in addition to Lead from the Outside, formerly Minority Leader, a guidebook on making real change.