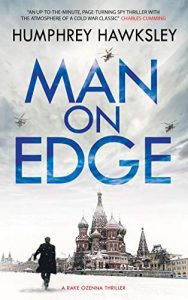 A hard-as-nails hero, an out-of-the-ordinary location, and oodles of high-action encounter—it's everything readers want in a political thriller–David Keymer, Library Journal
A tense and twisting espionage thriller involving state secrets, lethal assassins and the threat of a new Cold War.
Reminiscent of the very best Cold War fiction, filled with double-dealing, and ingenious political intrigue.
Nelson de Mille
MAN ON EDGE


Trauma surgeon Carrie Walker is taken aback when her estranged uncle makes contact out of the blue. Senior Russian naval officer Artyom Semenov claims to be in possession of an explosive piece of information which he is offering to share with the West. But can he be trusted?
Travelling to Moscow undercover to meet with Semenov, Carrie finds herself stranded when the operation goes catastrophically awry. In grave danger, there's only one person she can turn to for help: her former fiancé, Major Rake Ozenna of the Alaska National Guard.
Aware how vital it is that he reaches Carrie, Rake knows he's pitted against a lethal enemy. As preparations gather pace for a high- profile Arctic NATO exercise,  Rake must act fast if he is to save Carrie and prevent a global catastrophe.
A high-stakes, high octane thriller pitting an estranged couple between the clash of two international superpowers.

Humphrey Hawksley is a former BBC foreign correspondent, known to millions through his TV and radio broadcasts. His understanding of the global struggle for power has informed this white-knuckle thriller

Perfect for fans of Clive Cussler, Brad Thor and of the Jack Reacher, Jack Bauer and Jason Bourne series.
Reviews so far for MAN ON EDGE
A multilayered tale with plenty of fast-paced action will hook thriller fans
Booklist
The scene-setting is vivid, the geopolitics a balanced backdrop
Adam LeBor, Financial Times
An up-to-the-minute-, page-turning spy thriller with the atmosphere of a Cold War classic
Charles Cummings, New York Times bestselling author
Can Rake and his allies possibly cut through the fog of triple-crosses and alliances of convenience….The pace is furious, the casualty list breathtaking.
Kirkus Review
The best thriller writer we have
Rod Liddle, columnist, Sunday Times, the Sun, the Spectator 
A chilling and all-too-plausible scenario. Hawksley knows his stuff
Antony Johnston, creator of Atomic Blonde
Hawksley's knowledge is amazing. This is world class suspense.
Odd Harald Hague, Arctic explorer and best-selling author of The Great Bear
A tough, uncompromising hero raised on the remote Alaskan island of Little Diomede in the Bering Strait. Two thrillers of Global Noir. MAN ON ICE explodes onto the frozen US-Russian; MAN ON EDGE moves Rake Ozenna to Norway and the tense Russian-NATO border
Hawksley is a master at ramping up the tension; then turning the screw a little more …. Rake Ozenna is proving to be one of the more believable characters in a crowded field
Adam Colclough, Shots Crime and Thriller
Hawksley's hero, Rake Ozenna, is smart and tough, and we're glad to have him on our side
Nelson de Mille
www.manonice.co.uk
www.manonedge.co.uk 
Humphrey Hawksley is available for interviews, media appearances, speaking engagements, and/or book review requests – please contact mickey.creativeedge@gmail.com by email or by phone at 403.464.6925.  We look forward to hearing from you about coverage.