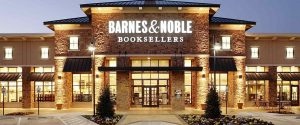 Press Release from Barnes & Noble:::
Coronavirus (COVID-19) is impacting our country in an unprecedented way. We are proud to be members of your communities and understand that at this time we all face unique challenges. As we begin to reopen our stores, our priority is the safety of our customers and booksellers. Here are a few of the steps we are taking to resume serving our communities.
Our Stores
Most of our stores have been closed to the public to maintain the safety of our customers and booksellers. We are evaluating carefully, on a store-by-store basis, when to reopen based on state guidelines and when we are confident that we may do so safely both for our customers and booksellers.
Those stores that are opened will have numerous safety precautions in place, including:
    –    Enhanced cleaning throughout the day and reduced store hours;
–    Social distancing measures of at least six feet for customers and booksellers, including a limit to the number of customers at any one time, and in-store signage;
–    Protective barriers at our registers to separate customers and booksellers;
–    Booksellers are always required to wear face masks;
–    All booksellers have temperature checks before shifts;
–    Designated spaces are marked for customers to deposit any books they have browsed, for these then to be taken out of circulation for sanitizing;
–    Cafés are limited to To-Go only service and BN Café App pickup;
–    Curbside delivery for Buy Online, Pick Up In Store orders
We will not be holding in store events but will continue with a variety of Virtual Events with authors and Storytime book readings available on BN.com, and via our social channels.
We appreciate your patience and support of these changes to the running of our stores.
Meanwhile, we are very pleased to let you know that we have been busy in each of our stores. We have moved the shelving and furniture – and just about every book in the store – to improve our appearance and to make browsing better. Bestsellers and new releases are given dedicated space; fiction, mystery, history, and kids have been rearranged; most sections have been given a thorough review; and above all we have made a great effort to improve the assortment of books we stock. We really hope that you like what we have done.
We are looking forward to welcoming you back to our stores. We know that reading, as well as workbooks and educational toys and games, play an important role to keep us all engaged and connected, even as we have been isolating. We will be reopening carefully and conscientiously, and with the greatest appreciation for the support and dedication of our customers.
Please contact your local store for current operating hours. Store status and contact information is available 
here
.
Online Orders
We understand not everyone will be able to visit a store at this time. BN.com is available for you to place orders 24/7. Our NOOK app is available to download for free on iOS and Android to access eBooks and digital magazines on your mobile device. Due to the current circumstances, we are taking extra care also to fulfill orders as safely as possible. This may result in delivery delays, but we are working hard to get your order to you as quickly as possible and at present we are working smoothly. We thank you for your business and we greatly appreciate your patience during this time.
International Orders
Due to the ongoing global impact of COVID-19, international shipping from the U.S. has been temporarily suspended to all countries except Canada, Australia, and U.S. Territories, and will result in delays or cancellations for some orders. Where possible, we are working to get your order to you as quickly as possible. We apologize for any inconvenience this may cause.
Curbside Pickup for Online Orders
In most of our stores, including many of our stores that are closed to in-person shopping, we are offering curbside pickup for online orders. Please check 
here
 to confirm curbside pickup availability at your local B&N before placing your order online. Contact your participating B&N store for hours and additional details.
Our Cafés
Cafés that are open are serving on a To-Go or BN Café App pickup basis only. The B&N Cafés that are open are available for quick pickup of Starbucks coffee & beverages, Starbucks coffee bags, Harney & Sons tea tins, freshly baked cookies, savory sandwiches, and more. Please call your local B&N to confirm hours and availability.
Our Distribution Centers
In order to keep our employees and customers safe, we have substantially changed operations in our two Distribution Centers to follow the latest guidelines from the CDC and health officials. We have enhanced cleaning, including regular deep cleans. Social distancing is maintained by a number of measures, including reduced staffing, marked floors and changed spacing at work stations to keep people at least 6-feet apart, and removed turnstiles and break room seating. We conduct temperature checks before work shifts begin and require employees to stay at home if they feel ill or for any other reason are uncomfortable coming to work. Notice of these and other policies are posted throughout the facilities. We appreciate all the hard work and efforts of our staff in the Distribution Centers.
Virtual Author Events and Storytimes
While we are not currently holding events in our stores to keep social distancing, the fun doesn't have to end! Please join us for virtual Storytimes 
here
 and find learning materials and resources. We are also featuring live virtual events with some of your favorite authors. We look forward to seeing you online! We are Barnes & Noble on Facebook, @BNBuzz on Twitter, and barnesandnoble on Instagram. You can also follow your local store on Facebook, Twitter, and Instagram.
We are of course book lovers too and, like many of you, we turn to books for comfort and education, entertainment and escape, especially in times like this. For those of you who visit us at a store, our booksellers will be there to welcome you and to recommend your next great read.
We greatly appreciate your support in these difficult times and cannot wait to welcome you back.