When Jocie McKade asked about a hobby, I immediately thought of making jam. Although not traditionally a hobby when I was growing up, none of my friends' moms made jam. Mom was all about organic gardening, getting back to nature and natural healing. She was always ahead of her time…or was she—like me—a person out of time, feeling they were born in the wrong century?
Making jam became known as more of a hobby as the years went by, instead of a necessity as it was in Gram's and Grandma's day. Over the years, I'd put up jam, jelly, pickles, or relish and always felt so accomplished, but never as proud as I was the day our daughter sent a text and a picture of her first batch of jam! I felt Mom, my Grandmas and Great-Grandmas smiling down on us from Heaven that day!
My Mom remembered helping her grandmother making jam, putting up vegetables, fruits, sauces, etc. and wanted to teach my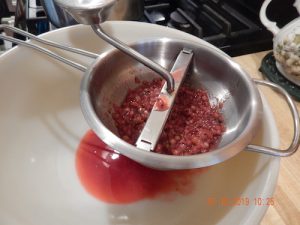 younger sisters and I how to do so safely. While I always loved spending time in the kitchen with Mom, there was a downside to the canning process—it was usually at the height of the summer when it was HOT. We had one of our box fans going full speed sitting in the doorway between the kitchen and the dining room, drawing the hot air out of the kitchen. NOTE: you cannot have a draft on your water-bath canner, your jars, etc. for a few reasons:
In our kitchen, it'd blow out the flame on our old gas stove.

Sterilized jars need to remain hot as you're filling them with hot jams, jellies or veggies, etc. FYI, your mason jars could crack if there is a radical change in temperature. One of the reasons, Mom taught us to inspect the jars we were about to sterilize very carefully, looking for chips, nicks, cracks or imperfections in the mason jars.

Once filled and sitting on the counter (all lined up in a row with the afternoon sunshine streaming in the West window illuminating the fruits of your labors) you CANNOT have a draft on them. I think it has to do with the temperature change messing with the cooling down process…when you get to listen to the musical "pinging" of the jar lids as they seal. *sigh* My brother, sisters and I loved to count the number of pings we heard during dinner. Oh, and don't do what I did one time. I touched the top of a lid that hadn't sealed, and it pinged—but Mom wasn't sure if it was about to seal or if it was my little pointer finger. Lesson learned.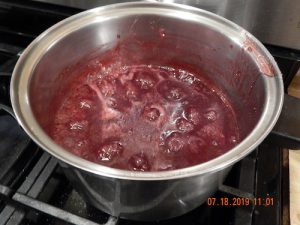 Favorite jams to make? I have a few. Sometimes I like to just mix it up with whatever's really, really ripe in the three-tiered yellow mesh hanging basket that used to hang in our kitchen growing up.
Faves so far: Nectarine/Plum; Rhubarb; Concord Grape; Raspberry; Red Currant and Sunshine Jam to name a few.
Over the years, my part-time secretarial job, writing, and full-time mom-job mean less time to create in the kitchen (my favorite room in the house). Mom was still alive then and suggested that I put up "freezer jam." Now why hadn't I thought of that? I can still remember the day their new Sears freezer arrived, and she gleefully started to fill it with the bounty from the garden.
I've been making freezer jam (small batches since we don't have the luxury of a Freezer…or anywhere to put one) ever since. Nothing tastes as glorious as warm-out-of-the-oven cream scone topped with freshly whipped cream and a dollop of homemade jam (any berry/fruit will do) with a hot cup of Barry's Irish Breakfast tea while in the garden communing with the songbirds and puppies as the sun rises.
I'm hoping to get back to the water-bath canning method this year, but I'd have to clear out a section of shelves in our basement to store the jars of pickles, jams, jellies, relishes, etc. My "to do" list gets longer every day. *sigh*
If you're interested in learning how to make jams, jellies, etc. you can rely on the same publication Mom and my Grandmas used…The Ball Blue Book…a how to for "canning." Whenever a new version of the Ball Blue Book came out, Mom would pick it up. She gave me the 1979 version (the year I married the love of my life,) and I picked up the 1987 and 2003 versions as well.
Today, I'm going to drop off books for our darling grandsons for finishing Kindergarten and Third Grade while being home-schooled during the pandemic along with the 2003 Ball Blue Book for our daughter. IMHO, passing on traditions is another way to show the ones you love just how much you love them. Although, homemade jam on fresh-out-of-the-oven scones or bread works, too!
The latest release from C.H. Admirand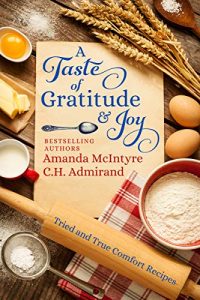 Amanda McIntyre and C.H. Admirand's common love for home, family, tradition, and overcoming obstacles is the true inspiration for their fiction writing. In this special cookbook dedicated to gathering our families close and getting through this global pandemic together, East Coast meets the Heartland with a delicious collection to inspire making your own memories and in the process bring you a Taste of Gratitude & Joy!
ABOUT THE AUTHOR: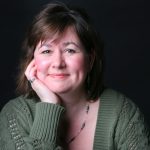 C.H. writes about the things she loves most: Family, her Irish and English Ancestry, Baking and Gardening. Take a trip back in time to Regency England for her new series: The Lords of Vice, coming from Dragonblade Publishing in 2020! Venture back to the Old West with her bestselling Irish Western Series. Fast-forward to the present, stopping at the Circle G Ranch in Pleasure, Texas, before finally landing in Apple Grove, Ohio–Small Town USA–for a slice of Peggy McCormack's Buttermilk Pie!
Connect:
Website: http://www.chadmirand.com
Newsletter:  C.H.s Newsletter
Amazon Author Page:  C.H.s Amazon Author Page
Book Bub: C.H.s BookBub Page
Facebook: C.H.'s Facebook Author Page
Amazon UK: C.H.s Amazon UK Author Page
Goodreads: C.H.s Goodreads Author Page
Links to current releases:
C.H.'s 3rd book in her Sweet Small Town USA Series ~ Available in Kindle Unlimited, Amazon e-book and trade paperback and large print: