It's not often I read poetry. It's not that I don't like it, I just don't read it often. I love Robert Frost. I love Emily Dickinson, E.E. Cummings, Maya Angelou and Edgar Allen Poe. But, I've not found anyone new and modern that really captured my heart.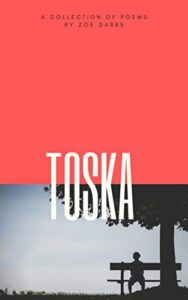 TOSKA by Zoe Dabbs though is the first I've read in a long while that I found that offers such a bounty of epiphanies and heartfelt stories.
"Too poor to borrow – Too pretty to beg", just a few words in a brilliant poem and I understood it, knew exactly what was being conveyed and was moved by it.
TOSKA isn't a big time commitment.  But, it's time well spent.
Five out of five stars!
ABOUT THE BOOK
In her semi-autobiographical poetry debut, Zoe Dabbs touches on the ennui of unfulfilled love, the heartbreak of banality, the torment of abuse, the hatred of shattered families, and a world in which each pain is both universal and unique. Toska explores the universal longing, anguish and melancholy that is part of being human.