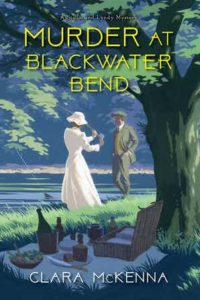 Murder at Blackwater Bend – A Stella and Lyndy Mystery
By Clara McKenna
Wild-hearted Kentuckian Stella Kendrick cautiously navigates the strict demands of British high society as the future Lady of Morrington Hall. But when petty scandals lead to bloody murder, her outspoken nature could be all that keeps her alive . . .
Following a whirlwind engagement to Viscount "Lyndy" Lyndhurst, Stella is finding her footing within an elite social circle in picturesque rural England. Except tea time with refined friends can be more dangerous than etiquette faux pas—especially in the company of Lady Philippa, the woman Lyndy was once set to marry, and her husband, the ostentatious Lord Fairbrother . . .
Outrage erupts and accusations fly after Lord Fairbrother's pony wins best in breed for the seventh consecutive year. The man has his share of secrets and adversaries, but Stella and Lyndy are in for a brutal shock when they discover his body floating in the river during a quiet morning fishing trip . . .
Suddenly unwelcome around hardly-grieving Lady Philippa and Lyndy's endlessly critical mother, Stella faces the bitter reality that she may always be an outsider—and one of her trusted new acquaintances may be a calculating killer. Now, Stella and her fiancé must fight against the current to catch the culprit, before they're the next couple torn apart by tragedy.
You can purchase MURDER AT BLACKWATER BEND at:
Kensington Books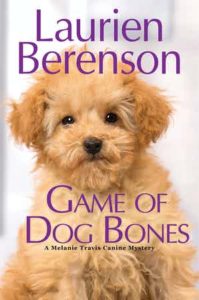 Game of Dog Bones A Melanie Travis Mystery
by Laurien Berenson
Standard Poodle owner Melanie Travis is an excellent judge of dogs—and people. But what happens when an unnamed killer emerges at one of the fiercest all-breed competitions ever?
As Greenwich, Connecticut, slows down during a bitterly cold February, Melanie and her spunky Aunt Peg head to the city that never sleeps for the Westminster Kennel Club Dog Show at Madison Square Garden. Aunt Peg can't wait to demonstrate her judging chops on national TV, even after being hounded by frustrating mishaps—all seemingly orchestrated by Victor Durbin, an ousted Paugussett Poodle Club member with a bone to pick. But the bright lights of the show ring grow dim when Victor is found murdered, and she's the one topping the suspect list . . .
Driven to solve the crime on her aunt's behalf, Melanie fetches hair-raising clues about the victim. Victor didn't score many friends with his unethical breeding practices, sketchy puppy café, and penchant for mercilessly scamming others to get ahead. He burned so many bridges that his own business partner admits to being delighted by news of his death. It appears Victor finally toyed with the wrong person, and as Melanie digs up more chilling evidence, she realizes that exonerating Aunt Peg means confronting a murderer who's in it to win it . . .
You can purchase GAME OF DOG BONES at:
Kensington Books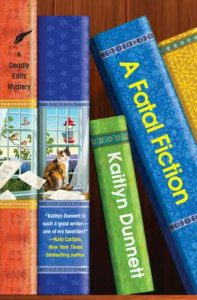 A Fatal Fiction – Deadly Edits
by Kaitlyn Dunnett
Freelance book editor Mikki Lincoln knows the makings of a well-written story. But she'll need to choose her words wisely when a new assignment introduces a deadly plot twist . . .
Forgotten on the outskirts of quaint Lenape Hollow, Feldman's Catskill Resort Hotel has outlasted its heyday as a popular tourist destination and now awaits demolition. But once Mikki is hired to edit a revealing memoir by Sunny Feldman, the last living relative of its original owners, the doomed resort quickly ends up back in the spotlight . . .
Unfortunately, everyone's attention shifts to Mikki when a body is discovered at the demolition site. Seen arguing with deceptive entrepreneur Greg Onslow right before his shocking death, the editor has no choice but to spell out exactly why she isn't guilty of murdering him . . .
Mikki's dash for answers brings Greg's shady dealings into focus, along with an unsettling list of potential culprits. As false leads and dead ends force her to revise theories on who really did it, can Mikki judge fact from fiction before the investigation reaches a terrifying conclusion?
You can purchase A FATAL FICTION at:
Kensington Books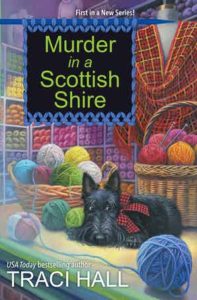 Murder in a Scottish Shire A Scottish Shire Mystery
by Traci Hall
Known as the Brighton of the North, Nairn is both a charming Scottish town and a popular seaside resort—but to Paislee Shaw, it's simply home—unfortunately to a murderer . . .
 
For a twenty-eight-year-old single mum, Paislee has knit together a sensible life for herself, her ten-year-old son Brody, and Wallace, their black Scottish terrier. Having inherited a knack for knitting from her dear departed grandmother, Paislee also owns a specialty sweater shop called Cashmere Crush, where devoted local crafters gather weekly for her Knit and Sip.
Lately, though, Paislee feels as if her life is unraveling. She's been served an eviction notice, and her estranged and homeless grandfather has just been brought to her door by a disconcertingly handsome detective named Mack Zeffer. As if all that wasn't enough, Paislee discovers a young woman who she recently rehired to help in the shop dead in her flat, possibly from an overdose of her heart medicine. But as details of the death and the woman's life begin to raise suspicions for Detective Inspector Zeffer, it's Paislee who must untangle a murderous yarn . . .
You can purchase MURDER IN A SCOTTISH SHIRE at:
Kensington Books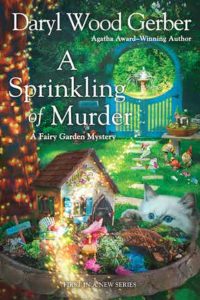 A Sprinkling of Murder – A Fairy Garden Mystery
by Daryl Wood Gerber
Fairy garden store owner Courtney Kelly believes in inviting magic into your life. But when uninvited trouble enters her shop, she'll need more than a sprinkling of her imagination to solve a murder . . .
 
Since childhood, Courtney has loved fairies. After her mother died when Courtney was ten, she lost touch with that feeling of magic. A year ago, at age twenty-nine, she rediscovered it when she left her father's landscaping business to spread her wings and start a fairy garden business and teashop in beautiful Carmel, California. At Open Your Imagination, she teaches garden design and sells everything from fairy figurines to tinkling wind chimes. Now she's starting a book club tea.
But the light of the magical world she's created inside her shop is darkened one night when she discovers neighboring dog-grooming business owner Mick Watkins dead beside her patio fountain. To make matters worse, the police suspect Courtney of the crime. To clear her name and find the real killer, Courtney will have to wing it. But she's about to get a little help from an unexpected source . . .
You can purchase A SPRINKLING OF MURDER at:
Kensington Books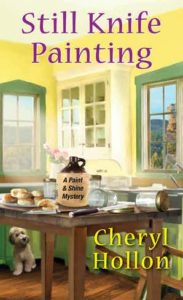 Still Knife Painting
by Cheryl Hollon
Miranda Trent has set up a sweet life in a scenic corner of Appalachia—until she stumbles across the trail of a killer . . .
 
After inheriting her uncle's Red River Gorge homestead in Eastern Kentucky—smack dab in the middle of the Daniel Boone National Forest—Miranda comes up with a perfect business plan for summer tourists: pairing outdoor painting classes with sips of local moonshine, followed by a mouthwatering sampler of the best in southern cooking.
 
To Miranda's delight, Paint & Shine is a total success—until someone kills the cook. As the town's outsider, suspicion naturally falls on Miranda. Murdering the best biscuit baker of Red River Gorge is a high crime in these parts. Miranda will have to prove her innocence before she's moved from farmhouse to jail cell faster than she can say "white lightning" . . .
"Set against the blazing backdrop of an Appalachian fall, Still Knife Painting serves up a tasty stew of murder and moonshine. In this series debut, Cheryl Hollon weaves a tale as complex and country as the antique braided rug that figures in the story."
—Barbara Ross, author of the Maine Clambake Mysteries
You can purchase STILL KNIFE PAINTING at:
Kensington Books