People really do judge a book by its cover. If the cover is intriguing enough you turn the book over and read the synopsis on the back cover. From there you may flip through a few pages, read the first chapter, but it always starts with the book cover.
We collected just a handful of intriguing and artistic book covers for you. Which one intrigues you the most? What book did we leave out that you think should have made the list?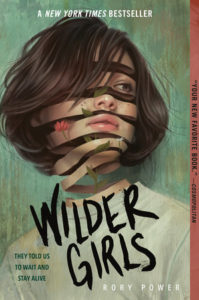 #1- Wilder Girl by Rory Power.
We love the artistic take the book cover artist had with this. It's strangely beautiful.
ABOUT THE BOOK:
It's been eighteen months since the Raxter School for Girls was put under quarantine. Since the Tox hit and pulled Hetty's life out from under her.
It started slow. First the teachers died one by one. Then it began to infect the students, turning their bodies strange and foreign. Now, cut off from the rest of the world and left to fend for themselves on their island home, the girls don't dare wander outside the school's fence, where the Tox has made the woods wild and dangerous. They wait for the cure they were promised as the Tox seeps into everything.
But when Byatt goes missing, Hetty will do anything to find her, even if it means breaking quarantine and braving the horrors that lie beyond the fence. And when she does, Hetty learns that there's more to their story, to their life at Raxter, than she could have ever thought true.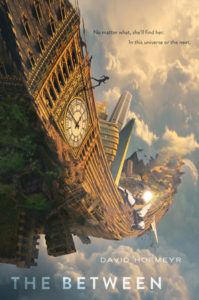 #2 The Between by David Hofmeyr
The title and the cover come together to give you a feel for the story. Someone in walking up Big Ben as it twists into another dimension. I don't know what's going on since I've not read the book, but the cover stopped me dead in my tracks as my eyes tried to consume all it saw there.
ABOUT THE BOOK:
Seventeen-year-old Ana Moon is having a rough week. It starts with a fight after school, then suspension, followed by mandatory psych visits. Still, Ana hopes therapy will help her with another problem–the disturbing feeling that someone, or something, is following her.Then, during a shocking train crash, life goes from bad to bizarre. In the space of mere seconds, Ana's best friend is gone—taken right in front of her eyes by an incredible, terrifying beast.

Seeking answers, Ana joins forces with the mysterious Malik and his covert clan to find her friend and return home. But there's a larger war under way, and unimaginable evil lurks in the shadows. If they hope to make it home, Ana and her friends must gather the strength to fight—or face the collapse of the universe as they know it.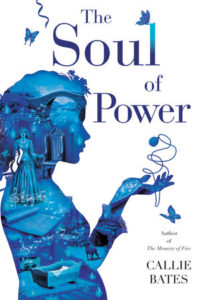 #3
The Soul is Power
by Callie Bates
I love the use of white vs color. It draws the eye to items you see and then into the story inside the girl's profile. You just want to take in everything.
ABOUT THE BOOK:
Sophy Dunbarron—the illegitimate daughter of a king who never was—has always felt like an impostor. Separated from her birth mother, raised by parents mourning the loss of their true daughter, and unacknowledged by her father, Sophy desires only a place and a family to call her own. But fate has other ideas. Caught up in Elanna Valtai's revolution, Sophy has become the reigning monarch of a once-divided country—a role she has been groomed her whole life to fill.
But as she quickly discovers, wearing a crown is quite a different thing from keeping a crown. With an influx of magic-bearing refugees pouring across the border, resources already thinned by war are stretched to the breaking point. Half the nobility in her court want her deposed, and the other half question her every decision. And every third person seems to be spontaneously manifesting magical powers.
When Elanna is captured and taken to Paladis, Sophy's last ally seems to have vanished. Now it is up to her alone to navigate a political maze that becomes more complex and thorny by the day. And worse, Sophy is hiding a huge secret—one that could destroy her tenuous hold on the crown forever.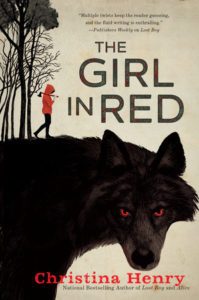 #4 The Girl in Red by Christina Henry
This has so many elements I like. The use of the wolf with it's red eyes that match the girl's jacket. Obviously a play on Little Red Riding Hood. Not sure if the book is, but the cover is reminiscent of it. She has an axe and is coming out of the woods. Be careful there red-eyed wolf! There's a story there for sure!
ABOUT THE BOOK:
It's not safe for anyone alone in the woods. There are predators that come out at night: critters and coyotes, snakes and wolves. But the woman in the red jacket has no choice. Not since the Crisis came, decimated the population, and sent those who survived fleeing into quarantine camps that serve as breeding grounds for death, destruction, and disease. She is just a woman trying not to get killed in a world that doesn't look anything like the one she grew up in, the one that was perfectly sane and normal and boring until three months ago.There are worse threats in the woods than the things that stalk their prey at night. Sometimes, there are men. Men with dark desires, weak wills, and evil intents. Men in uniform with classified information, deadly secrets, and unforgiving orders. And sometimes, just sometimes, there's something worse than all of the horrible people and vicious beasts combined.

Red doesn't like to think of herself as a killer, but she isn't about to let herself get eaten up just because she is a woman alone in the woods….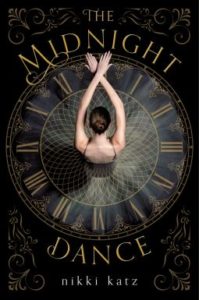 This is just so beautiful to me. I love everything about it. I love that the face of the clock looks like her dress. I love the fonts and flourishes. I want to read this book…NOW!!!
ABOUT THE BOOK:
Seventeen-year-old Penny is a lead dancer at the Grande Teatro, a finishing school where she and eleven other young women are training to become the finest ballerinas in Italy. Tucked deep in the woods, the school is overseen by the mysterious and handsome young Master, who keeps the girls ensconced in the estate – and in the only life Penny has ever known.
But when flashes of memories – memories of a life very different from the one she thinks she's been leading – start to appear, Penny begins to question the Grande Teatro and the motivations of Master. With a kind and attractive kitchen boy, Cricket, at her side, Penny vows to escape the confines of her school and the strict rules that dictate every step she takes. But at every turn, Master finds a way to stop her, and Penny must uncover the secrets of her past before it's too late.
Debut author Nikki Katz delivers a unique and haunting twist on a classic fairy tale with The Midnight Dance, chosen by readers like you for Macmillan's young adult imprint Swoon Reads.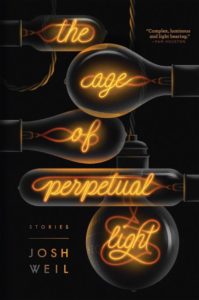 #6 The Age of Perpetual Light by Josh Weil
What a great premise for a cover. Whoever thought this up should get an award. It's simple, uses the title in a creative way and is so intriguing! It's very classy, too!
ABOUT THE BOOK:
Following his debut Dayton Literary Peace Prize-winning novel, The Great Glass Sea, Sue Kaufman Prize winner and National Book Foundation "5 Under 35" author Josh Weil brings together stories selected from a decade of work in one stellar new collection that explores themes of progress, the pursuit of knowledge, and humankind's eternal attempt to decrease the darkness in the world.
Beginning at the dawn of the past century, in the early days of electrification, and moving into an imagined future in which the world is lit day and night, each tale in The Age of Perpetual Light follows deeply-felt characters through different eras in American history; from a Jewish dry goods peddler who falls in love with an Amish woman while showing her the wonders of an Edison Lamp, to a 1940 farmers' uprising against the unfair practices of a power company, a Serbian immigrant teenage boy in 1990's Vermont desperate to catch a glimpse of an experimental satellite, to a back-to-the-land couple forced to grapple with their daughter's autism during winter's longest night. As he did with the rough-living figures in his soulful and "devastatingly memorable" (Binnie Kirshenbaum) The New Valley, in The Age of Perpetual Light Weil explores through his unforgettable characters our most complex and fraught desires.
Brilliantly hewn and piercingly observant, these are tales that speak to the all-too-human desire for advancement and the struggle of wounded hearts to find a salve, no matter what the cost. This is a breathtaking book from one of our brightest literary lights.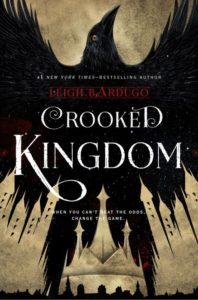 #7 Crooked Kingdom by Leigh Bardugo
The version of this cover on Amazon has the author's name in white. I was happy to see that since my only complaint with this color was the red on black.
Otherwise, this is very captivating. I love how the crow's feathers shape the kingdom. Whoever created this was a true artist. I really love it!
ABOUT THE BOOK:
When you can't beat the odds, change the game.
Kaz Brekker and his crew have just pulled off a heist so daring even they didn't think they'd survive. But instead of divvying up a fat reward, they're right back to fighting for their lives. Double-crossed and badly weakened, the crew is low on resources, allies, and hope. As powerful forces from around the world descend on Ketterdam to root out the secrets of the dangerous drug known as jurda parem, old rivals and new enemies emerge to challenge Kaz's cunning and test the team's fragile loyalties. A war will be waged on the city's dark and twisting streets—a battle for revenge and redemption that will decide the fate of the Grisha world.
We've showed you ours, now show us yours! What book covers do you love and why?