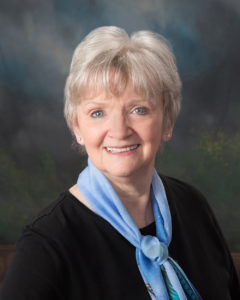 BEHIND THE WORDS WITH J.M. GRIFFIN
Welcome J.M. Griffin, we're excited to have you on Reader's Entertainment. First, tell our readers a bit about yourself. Where you're from, where you live? Is writing your full-time job?
Hi, I'm so happy to be here. Thank you for the invitation. I live on the western side of Rhode Island, in the countryside. It's very rural and a great place to reside. I am originally from northwestern Maine, around fifty miles from the Canadian border.
I enjoy writing, especially cozy mysteries. I have several women sleuth mysteries, but the Bun and Jules mystery series definitely fits the cozy genre. I write full-time and love every minute of it.
How long have you been writing?
My writing career officially began in 2001.
Give readers a look at a typical writing day.
One must have coffee before settling down to write, but my writing day usually starts around 6:00 a.m. I write for an hour or two at a time, taking a short break between sessions. I think it refreshes my mind and I have a better perspective when I begin again. I end my writing day around 3 or 4 p.m. and try to stick to that schedule.
Tell us about your latest release? Where the idea came from? Perhaps some fun moments, or not so fun moments?
The most recent release was Hop 'Til You Drop. I wanted to set the story around Easter and came up with an Easter egg hunt event hosted by the city council in Windermere. Jules and Bun live on the far end of the area in the countryside. There's never a dull moment at the farm.
When something unfortunate happens, such as the two of them finding a dead body, Bun naturally assumes they will investigate. At times they find themselves in danger and Bun saves Jules quite often from all sorts of deadly situations.
Once they jumped from a moving car and were chased by the killer. Another situation arose when the sheriff requested Jules become a detainee in a cell of the police station and pretend to have been arrested in order to get the criminals to confess. Jules decided she'd never do that again.
Could you share one detail from your current release with readers that they might not find in the book? Perhaps a juicy bit of back-story, or something only you know about a character.
Bun is a rescued rabbit. He was taken from a home where he was abused by the woman who taunts Bun and Jules every chance she gets.
The secret I'm going to share with readers is this: The abusive woman has a criminal past and a stolen identity. She and her boys moved to Windermere when it was a budding town, unlike it is presently. Bun isn't aware of her back-story, even though he lived there for some time before being rescued.
Who has been the most difficult character for you to write? Why?
The most difficult character is usually the criminal because while he/she is bad, they must have a saving grace. A saving grace is often hard to come by because I can't allow that grace to interfere with his/her criminal behavior.
If you could be one of your characters for a day which character would it be?
It would be Bun. Why? He has a great life with Jules and her friends, he investigates crimes, and he says whatever he wants. Besides, he doesn't have to work hard. ☺
Have any of your novels hit the number 1 in popularity?
My answer is: Yes, I topped James Patterson for about a half hour on Amazon with one of my books from the Vinnie Esposito series. I also topped Annette Blair for that day. Yep, that's my fifteen minutes of fame!
That's quite the claim to fame!!! Thank you so much for joining us today.
Readers can learn more about J.M. and her books by visiting her website.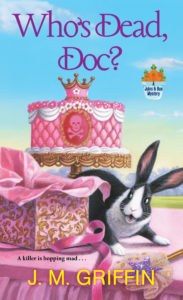 Here's a look at her latest release WHO'S DEAD, DOC?   ::::::::
Things get pretty hare-y when rabbit rescue and rehab expert Jules Bridge and her brilliant bunny go undercover to catch a murderer hiding in plain sight . . .
When Juliette "Jules" Bridge began caring for rabbits on her beloved Fur Bridge Farm in rural New Hampshire, she never imagined she'd be solving murders with one of them. Not only can her black-and-white rabbit, Bun, communicate with her telepathically, he happens to be a pretty sharp sleuth. Bun comes along as part of a petting pen for a birthday celebration—but for one of the guests, the fun is soon over. Evelyn Montgomery is found lying in the bushes with a knife in her chest, and the distraught hostess begs Jules to help . . .
To her surprise, so does Sheriff Jack Carver—who usually discourages Jules from getting involved in criminal investigations. But now she's drafted at the last minute to fill in for Evelyn as a judge at a rabbit show, and Jack wants her to go undercover. Yet as she and Bun expose the dark—albeit fluffy
You can purchase WHO'S DEAD, DOC? at:
Amazon
ABOUT THE AUTHOR:
With her books sold worldwide, J.M. Griffin is one of today's popular women sleuths authors.
J.M. is known best for her Vinnie Esposito series. The series, set in Rhode Island, the smallest state in the USA, is brought to life by a colorful cast of characters. Every novel has a blend of humor, mystery, and romance. J.M.'s upcoming novel in the series, Down Dirty Dead, is the sixth in the Esposito series.
Stepping away from Rhode Island's scenery, J.M. has set the novel Faerie Cake Dead on the coast of Maine. Filled with humor, faeries, sweet cupcakes, murder and a yummy hero, the villain is someone you least expect.
J.M.'s latest release, The Cadence Caper, takes place on the west coast of Florida in the Sarasota area. This cozy mystery has a unique cast of characters, a sexy hero, and a psychic heroine and it's the second book in the Sarah McDougall Series.  J,\.M. also has a new series featuring a telepathic rabbit named Bun, and the female rabbit farmer he lives with. The first book in the series, Left Fur Dead, was released in June 2019.
J.M., her husband, and two wacky cats reside in a countryside village in western Rhode Island, where life is anything but mundane.