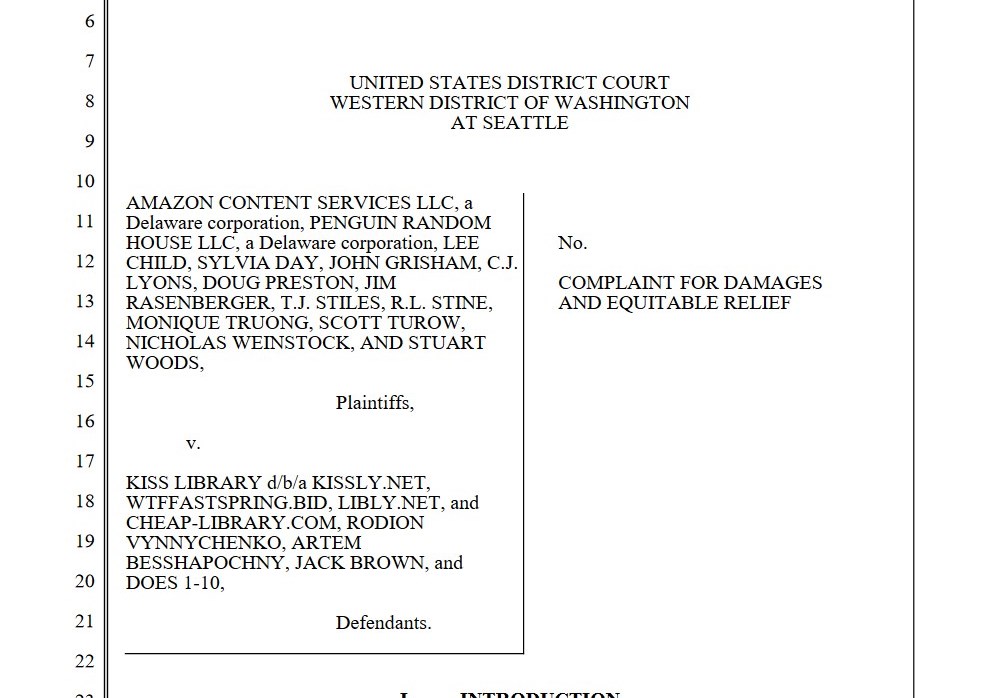 Without a doubt book pirating is on the rise and millions are being made by people other than the author, publisher or bookseller. Illegal sales of ebooks is a profitable business. Enough so that this pirating ring includes participants from Ukraine, Australia and Canada so far.
The Author's Guild has joined forces with Amazon Publishing and Random House Penguin Publishing as well as individual authors to help bring down KISS Library and its mirror sites.
KISS Library, which we will not link to, is considered the biggest book pirate endeavor in the world with millions of dollars being stolen since it's inception in 2017.
The lawsuit names the sites and the known owners/operators of those sites. It will be an uphill battle to get traction and have these sites removed or blocked, but someone has to start somewhere or publishing houses, authors and legitimate booksellers will continue to suffer.
From the article released by The Author's Guild they state-
A 2017 study by Nielsen and Digimarc indicated that illegal ebook downloads in the United States amounted to approximately $315 million in lost ebook sales per year,[1] negatively affecting legitimate book sales by as much as 14 percent.[2] Since the 2017 study, the number of pirate ebook sellers has proliferated at an alarming rate.
The Author's Guild also shared, "We are very grateful to Amazon Publishing and Penguin Random House for joining us in this lawsuit, as few authors possess the financial resources to file suit in federal court, particularly against a foreign adversary as cagey as KISS Library," said Mary Rasenberger, executive director of the Authors Guild. "Over the last several years, we have worked through various channels to curtail the proliferation of ebook piracy sites, but KISS Library has been a challenge since it is a particularly egregious criminal enterprise."
We will continue to follow the progress of this suit and its outcome.