Summer Reads and Summer Deeds with Susan Carlisle
I love to spend my summers at my mother's place on the lake swimming, reading, and relaxing. No matter how hot it is it seems ten degrees cooler on the deck with my feet propped up. I spend a lot of time with books when I'm there. I'm currently doing some retro reading. I'm appreciating Georgette Heyer's The Quiet Gentleman. I now understand she was the queen of regency romance in the 1950s.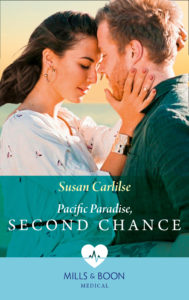 Is their surprise reunion…

…enough to heal them?
Nurse Macie Beck never imagined she would see Dr. Landon Cochran again—especially in her small Pacific island hospital. But the shock of his arrival is overtaken by their obvious and unresolved chemistry… As they are forced to work with each other, memories of the past blur their professional boundaries. Keeping things strictly business becomes impossible…and they find themselves wondering if this might be their opportunity for a second chance together!
ABOUT THE AUTHOR:
Susan has currently authored more than thirty books for the HarperCollins Harlequin medical imprint. Her Modern Masters of Their Castles trilogy is under her own imprint. Her heroes are strong, vibrant man and the women that challenge them.  Learn more about Susan at:::::