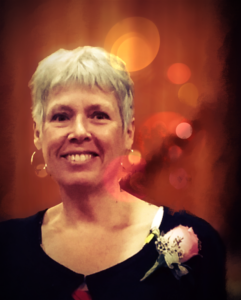 Today, we're excited to welcome Vicki Delany to Reader's Entertainment.
First, tell our readers a bit about yourself.  Where you're from, where you live? Is writing your full-time job?
I'm Vicki Delany, and I live in bucolic Prince Edward County, Ontario. I now am lucky enough to write full time.
How long have you been writing?
About 20 years.  I have published almost forty books.
Give readers a look at a typical writing day.
My writing day is very scheduled. I write every day of the week when I am home. I start about nine and write for about 3 or 4 hours. I write on a dedicated laptop computer that is used only for writing books, not even for working on promotional material. It's never been set up with email, Facebook, twitter, anything other than Word. That way, I can concentrate rather than being distracted.
Tell us about your latest release? Where the idea came from? Perhaps some fun moments, or not so fun moments?
My newest book is called Tea and Treachery and it's the first in the Tea by the Sea series from Kensington. The main character owns a traditional afternoon tea room on Cape Cod and the idea came from my own love of a proper afternoon tea.  Much drinking of tea and eating of scones and tea sandwiches was involved in the research.
Who has been the most difficult character for you to write? Why?
Rose Campbell is Lily Roberts' grandmother. Rose owns Victoria-on-Sea, a B&B on the same property as Lily's tea room.  I wanted Rose to be feisty and strong-willed but not obnoxiously so, and that can sometimes be a delicate balance.
If you could be one of your characters for a day which character would it be? Why?
I'd love to be one of the guests at Victoria-on-Sea and a customer at tea by the Sea. I'd relax in my beautifully decorated room overlooking the sea, enjoy a delicious full breakfast, wander the lovely gardens and walk along the beach, and then later go for a lovely afternoon tea.
All writers are readers. Are there any particular authors that have influenced how you write and, if so, how have they influenced you?
The books of people like Kate Carlisle, Jenn McKinley, and Mary Jane Maffini (and so many others!) showed me how to write a cozy book: an exciting mystery yes, but also full of heart and humour.
Do you have a secret talent readers would be surprised by? I
'm  a very good baker, if I do say so myself.
Your favorite go to drink or food when the world goes crazy!
Coffee in the morning, a nice glass of New Zealand Sauvignon Blanc or Prince Edward County Chardonnay in the evening does the trick.
Thank you so much for joining us today!
Vicki's latest release is TEA & TREACHERY – A TEA BY THE SEA MYSTERY. You can purchase it at:
Amazon
IndieBound Books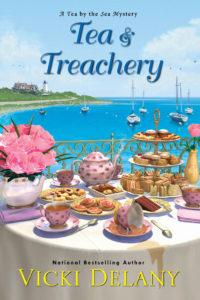 Tea and Treachery by Vicki Delany (Tea by the Sea book 1)
In this charming new cozy mystery series from nationally bestselling author, Vicki Delany, a New York City expat-turned-Cape Cod tea shop owner must solve the murder of a local real estate developer to help her feisty grandmother out of a jam . . .
 
As the proud proprietor and head pastry chef of Tea by the Sea, a traditional English tearoom on the picturesque bluffs of Cape Cod, Roberts has her hands full, often literally. But nothing keeps her busier than steering her sassy grandmother, Rose, away from trouble. Rose operates the grand old Victorian B & B adjacent to Lily's tea shop . . . for now. An aggressive real estate developer, Jack Ford, is pushing hard to rezone nearby land, with an eye toward building a sprawling golf resort, which would drive Rose and Lily out of business.
 
Tempers are already steaming, but things really get sticky when Ford is found dead at the foot of Rose's property and the police think she had something to do with his dramatic demise. Lily can't let her grandmother get burned by a false murder charge. So she starts her own investigation and discovers Ford's been brewing bad blood all over town, from his jilted lover to his trophy wife to his shady business partners. Now, it's down to Lily to stir up some clues, sift through the suspects, and uncover the real killer before Rose is left holding the tea bag.
TO LEARN MORE ABOUT VICKI AND HER BOOKS FOLLOW THESE LINKS::
www.facebook.com/evagatesauthor
Instagram: vicki.delany
Twitter @vickidelany
@evagatesauthor