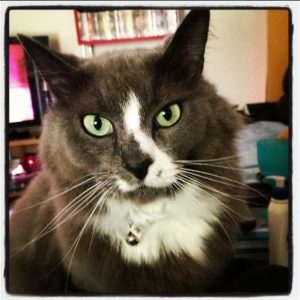 SPECIAL FEATURE
AUTHORS AND THEIR AMAZING PETS — LIZ BUTCHER
For as long as I can remember, we've had cats in the family. In my home, we have two feisty felines, both of which were rescue kittens. Pandora is a light-as-a-feather, white cat with blue eyes and grey tips on her ears, tail and paws. She's very much a princess who loves nothing more than a comfortable place to sleep—which is mostly what she does. Though considering she's now eighteen in human years, I think that's okay! Our other cat is Zeus (a.k.a Zeus-Monkey) is ten in human years and is really more like a dog than a cat. He loves playing with my husband and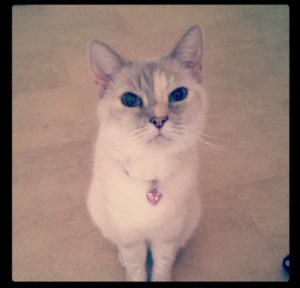 rolling around on the floor, but if he gets too boisterous, Pandora will give him a couple of swats over the head.
Pandora has always hated the cold, and she used to love sitting on the back of an old PC I had when she was a kitten. Needless to say, she's not a fan of the modern, streamlined computer we now have as there's nowhere warm for her to curl up! Her current preference (or perhaps payback) is to get up into the bookcases and knock things onto the ground while she makes herself comfortable. Zeus is a little more aggressive in his search for his perfect place, which I uncovered one day when I was unwell and had a rest on our couch. I thought I was going mad, as I could hear faint snoring that sounded like it was coming from within the couch. Determined to get to the bottom of it, I pulled the couch away from the wall and discovered Zeus had ripped a hole in the fabric and made himself a little man-cave inside it. He was not a popular cat that day…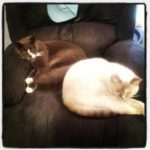 Even though they're like chalk and cheese, I love having them around, especially at the moment while I'm working from home. Zeus will often snuggle up on my lap while I write and there is something hypnotic about him purring that helps me concentrate—that is, until Pandora pushes something off the shelf…
Take a look at the latest release from Liz!
Releasing on September 1st.
Camille's father just inherited the family manor from his estranged uncle, forcing her to leave her friends and city life just before her senior year of high school for the small town of Woodville, England. After seeing a strange old woman lurking on the estate grounds, she embarks on a mission to uncover the history of her new home. What she finds is wilder than she could have imagined—the murder of her ancestor, Caleb LeRoux, on the same day his six-year-old daughter vanished without a trace. And an unforeseen connection to Camille herself, as the only female LeRoux born to the family in over two hundred years. With the help of her new school friends, Camille delves into the secrets of the manor, uncovering an all-encompassing truth that will change the entire course of her life—past, present, and future.
You can purchase LEROUX MANOR at:
Amazon
ABOUT THE AUTHOR:
Liz Butcher resides in Australia, with her husband, daughter, and their two cats. She's a self-confessed nerd with a BA in psychology and an insatiable fascination for learning. Liz has published a number of short stories in anthologies and has released her own collection, After Dark, in 2018. Her debut novel, Fates' Fury released September 2019, soon followed with LeRoux Manor in September 2020.
You can follow her at any of the below links:
Website: https://lizbutcherauthor.wixsite.com/lizbutcher
Twitter: https://twitter.com/lunaloveliz
Instagram: https://www.instagram.com/lunaloveliz/
Facebook: https://www.facebook.com/Liz-Butcher-1394868604152823/
Goodreads: https://www.goodreads.com/author/show/13845425.Liz_Butcher
Pinterest: https://www.pinterest.com.au/lizbutcherauthor/