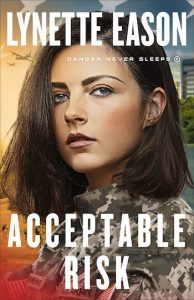 ACCEPTABLE RISK BY LYNETTE EASON
Will Layers of Lies Stop a Military Journalist from Uncovering the Truth?
"The characters, the mystery, and the nonstop action will keep you glued to the pages." —Suspense Magazine on Code of Valor Ada, Mich.—
Recently listed as the #1 suspense author by Family Fiction readers, Lynette Eason has learned how to craft a novel that is packed with twisted plots, intriguing characters, humor, and a dash of romance. Now this award-winning author is back with another high-intensity tale in Acceptable Risk, book two in the Danger Never Sleeps series.
Military journalist Sarah Denning agrees to guest teach at a school in the Middle East, where she is on assignment. But when the school is attacked, she is taken hostage. Her father, a high-ranking military general, plans to save her with the help of former Army Ranger Gavin Black. Although the plan is extremely risky, Gavin successfully accomplishes the mission and returns her to the US.
Unfortunately, Sarah is soon discharged from the Army as a result of a false psychiatric evaluation. She is determined to return to the Army, but her plans are delayed when she learns of her brother's suicide. Unable to believe that he would do such a thing, Sarah enlists Gavin's help to discover the truth. But what she uncovers may be the biggest story of Sarah's career—if she can survive long enough to write it.
Available August 2020
Interview with Lynette Eason
Welcome to Reader's Entertainment Lynette! 
How did you come up with your unique plot for your new book Acceptable Risk?
I'm always brainstorming with other authors. I was really stuck on this plot. Fortunately, I was able to throw out an SOS to a few other suspense authors, and they helped me craft the bare basics of the story. ☺
Acceptable Risk is the second book in the Danger Never Sleeps series. How are the books in this series tied together? The books are tied together by the friends who met while in the military.
The beginning of your book takes place in the Middle East. Did you find it difficult to write about an unfamiliar setting?
I did! No matter how much research you do, you never know if you've really "gotten it right." Fortunately, a good friend, Vincent Davis, was able to give me exactly what I needed as far as details about the location and the military facts. He was a huge help.
Your main characters, Sarah Denning and Gavin Black, are in different military professions. What type of research was required to accurately portray their roles?
Again, I interviewed actual people who either worked the jobs or could point me in the right direction. You are well known for the nonstop action and light romantic elements that you pack into your suspense novels and were recently ranked as the top romantic suspense author by Family Fiction readers.
What has led to your success?
Wow. I have to say that I was very honored to see that. I have some fabulous readers who are more than happy to throw their support behind me. I can't thank them enough for their votes. Other than working hard, learning the craft, attending conferences, networking within the industry, I would say the absolute biggest thing that's led to my success has been the people who've invested in me. I've had several amazing mentors, including Dee Henderson, Gayle Roper, Shirlee McCoy, and more. They're the reason I'm published. Add to that the fact that Revell has been an amazing publisher to work for. I believe that their support and willingness to do whatever it takes to get my books in readers' hands is another key element in getting my name out there and my stories read. I'm forever grateful for their strategic diligence in marketing me and my books.
What is the title for your third book in this series and when is it scheduled to release?
I don't have a third title yet, but it's scheduled to release January of 2021.
How can readers contact you?
I'm on Facebook at www.facebook.com/lynette.eason Twitter: lynetteeason; and Instagram: LynetteEason
Thank you for joining us, Lynette!
ABOUT THE AUTHOR: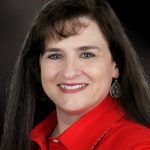 Lynette Eason is the bestselling author of Collateral Damage and Protecting Tanner Hollow, as well as the Blue Justice, Women of Justice, Deadly Reunions, Hidden Identity, and Elite Guardians series. She is the winner of three ACFW Carol Awards, the Selah Award, and the Inspirational Reader's Choice Award, among others. She is a graduate of the University of South Carolina and has a master's degree in education from Converse College. Eason lives in South Carolina with her husband and two children. Learn more at www.lynetteeason.com.