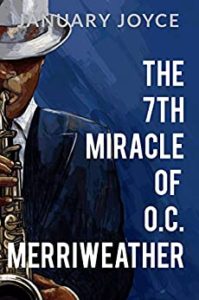 The 7th Miracle of O.C. Merriweather by January Joyce
5 out of 5 stars
This book is thought-provoking whether you agree with its hidden politics or sociology or now.
It's a kind of body-trade trope in a way. The white cop that kills the black man ends up experiencing the black man's life. So, you get to see both sides of the story, which I did like.
This would be a great book club book where people sit down and discuss some of the key points in the book.
ABOUT THE BOOK:
William Walsh is a popular and revered street cop assigned to patrol an unremarkable beat in Bakersfield, California. William (or Billy as his family and friends know him) is what could be described "as straight as they come" with no preconceived notions of categorizing people or racial stereotypes, at least none that he was aware. Then one average ordinary Tuesday he and his partner pull over a light blue sedan that distinctly fits the description of a vehicle previously used in a crime. During the stop, William – new, nervous, eager to be a good officer – inadvertently pulls the trigger and shoots the driver. Actually, he shoots the driver four times. This is the story of the aftermath of a White on Black police shooting. It's a hard look into the lives two men who couldn't be any more different, the grappling circumstances after the shooting, and the gift they share that transforms lives.
Book review by Sheila English