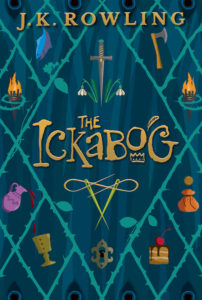 Scholastic will publish J.K. Rowling's The Ickabog, an original fairy tale, on Tuesday, November 10, 2020 in the US and Canada in hardcover and ebook formats, with international editions to follow soon after.
First serialized for free online this summer on TheIckabog.com, the author wanted to share the personal family favorite, which she wrote over ten years ago as a bedtime story for her younger children, to help entertain children, parents and carers confined at home during the Covid-19 pandemic. The story will now be published as a book this fall with J.K. Rowling donating her royalties through her charitable trust, The Volant Trust to assist groups who have been particularly impacted by the Covid-19 pandemic in North America and internationally.
Keen for children to be involved as the story unfolded, J.K. Rowling invited them to illustrate her story and be inspired by a host of colorful characters and fast-paced plot as it appeared online. The book will be beautifully brought to life throughout with full-color illustrations by the young winners (7-12 years old) of The Ickabog artwork competition run by each publisher in their territory.
In a statement, Ellie Berger, President, Scholastic Trade, said: "It's been amazing to see thousands of kids and families engaged with The Ickabog through the online serialization, especially during these extraordinary times. We're thrilled to be able to bring this original fairy tale to life with full-color illustrations to showcase and celebrate the creativity and imagination of today's young artists. We look forward to publishing this modern classic with unforgettable messages about the power of hope and friendship—perfect for kids and families to share and read-aloud together."
About The Ickabog:
From J.K. Rowling, a warm, fast-paced, funny fairy tale of a fearsome monster, thrilling adventure, and hope against all odds.
Once upon a time there was a tiny kingdom called Cornucopia, as rich in happiness as it was in gold, and famous for its food. From the delicate cream cheeses of Kurdsburg to the Hopes-of-Heaven pastries of Chouxville, each was so delicious that people wept with joy as they ate them.
But even in this happy kingdom, a monster lurks. Legend tells of a fearsome creature living far to the north in the Marshlands… the Ickabog. Some say it breathes fire, spits poison, and roars through the mist as it carries off wayward sheep and children alike. Some say it's just a myth…
And when that myth takes on a life of its own, casting a shadow over the kingdom, two children — best friends Bert and Daisy — embark on a great adventure to untangle the truth and find out where the real monster lies, bringing hope and happiness to Cornucopia once more.
Featuring full color illustrations by children from across the United States and Canada, this original fairy tale from one of the world's most celebrated storytellers will captivate readers of all ages.
The Ickabog will be published on November 10, 2020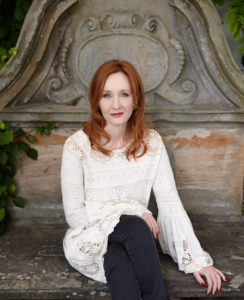 About the author: 
J.K. Rowling is the author of the seven Harry Potter books, first published between 1997 and 2007. The adventures of Harry, Ron and Hermione at Hogwarts School of Witchcraft and Wizardry have sold over 500 million copies, been translated into over 80 languages, and made into eight blockbuster films. Alongside the book series, she has written three short companion volumes for charity, including Fantastic Beasts and Where to Find Them, which later became the inspiration for a new series of films, also written by J.K. Rowling.
She then continued Harry's story as a grown-up in a stage play, Harry Potter and the Cursed Child, which she wrote with playwright Jack Thorne and director John Tiffany, and which has been playing to great acclaim in theatres in Europe, North America and Australia.
J.K. Rowling has received many awards and honors for her writing. She also supports a number of causes through her charitable trust, Volant, and is the founder of the children's charity Lumos, which fights for a world without orphanages and institutions, and reunites families.
For as long as she can remember, J.K. Rowling has wanted to be a writer, and is at her happiest in a room, making things up. She lives in Scotland with her family.
The Ickabog is J.K. Rowling's first book for children since Harry Potter and was initially published online for families to enjoy and engage with creatively while in lockdown in 2020.