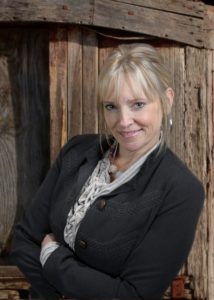 Welcome Winnie, we're excited to have you on Reader's Entertainment. First, tell our readers a bit about yourself. Where you're from, where you live? Is writing your full-time job?
Hello! It's so nice to be able to introduce myself to mystery readers. You're the best!
I've started my life in California—born in Newport Beach, not that I had any sand or sun there since we promptly moved to Texas, then to Northern California. I grew up and went to college in the South Bay and then college in the Sacramento Valley. English major! My husband and I met at UC Davis, and after time in both the San Francisco Bay Area and Sacramento, we moved our family to Texas (the DFW Metroplex) where we lived for ten years. We spent a brief stint in the mountains of Colorado, and now are settled, hopefully for a good long time, in North Carolina. We love it here!
I'm fortunate enough to be able to write fulltime, which is a treat after juggling my writing with raising our 5 kids and teaching middle school. Right now, pandemic notwithstanding, life is good.
How long have you been writing?
I started writing seriously, with an eye toward finding an agent and having my book published, in 2002 when my youngest was just a baby. He's 17 now. My first book, Living the Vida Lola, was published in 2008, so it took a few years from the time I began. That series will always have a special place in my heart. Lola was the first character I created and I feel she is an alternate version of myself in a lot of ways. There are five books in that series. I followed it up with the Magical Dressmaking Mysteries. There are 6 books in that series. Harlow Cassidy (a descendent of Butch Cassidy based on some revisionist history) is the sleuth. The series takes place in Bliss, Texas.
I wrote a few romantic suspense/mystery novels (look on my website!) which I love. They are themed around two Mexican legends: La Llorona and Chupacabra.
And, of course, the Bread Shop Myseries, which I write as Winnie Archer. I have several more books to write in this series, and I hope to continue it beyond that.
It blows my mind sometimes when I think of how many people I've killed. ?
Give readers a look at a typical writing day.
Sure! I tend to get all the chores and errands I have to do done in the morning. Spin class, when there was such a thing, walking the dogs (although I do that after dinner, often, too), emails, social media, etc. Mid to late morning is when I really dig into whatever I'm writing (currently the first in a new Book Magic series, which I'm very excited about). I have a word count minimum of 1000 words a day. Often, I exceed that. Sometimes by a lot. Occasionally I don't meet my goal. That's usually because I'm stuck in some way with the plot.
I'm enjoying cooking more now that I'm no longer making meals for 7 on the regular, so I'm trying to expand my repertoire and make more healthy plant-based meals. Dinner, walking the dogs, yoga, and reading and/or some TV round out the day.
Tell us about your latest release?
Dough or Die is the 5th book in the Winnie Archer Bread Shop Mysteries (my other books are written as Melissa Bourbon). The Bread Shop books follow Ivy Culpepper, our intrepid sleuth, in the fictional California coastal town of Santa Sofia. She has the help of her octogenarian sidekick, Penelope Branford, and Olaya Solis, the owner of Yeast of Eden, the bread shop where Ivy works.
Dough or Die's mystery revolves around Yeast of Eden's Bread for Life program and a reality TV show. There are a lot of threads in this book, each of which challenge Ivy in a different way. The Bread Shop books are always fun to write. I get to bake and try new bread recipes. Writing about food is always fun!
Could you share something about an element in your books that is important to you?
What a great question! One of the things I try to incorporate in all my books is a multicultural cast of characters to reflect real life, especially in the areas where my books are set. I'm married to a first-generation Mexican American man and, as I said above, we have 5 children. We made a very concerted effort to honor and continue elements from my husband's culture as we raised our kids. It's not always easy because our day to day life is very American. My kids are Mexican American but have grown up in a completely American lifestyle. We have an annual tamalada (Tamale making party), the kids have all sought out the Spanish language to become more fluent. Music. Food. These things influence our family life.
With my books, I have always wanted to tap into that cultural element in one way or another. Lola Cruz, from my first series, is Latina. She's a young Mexican American woman working in a typically male profession, trying to honor her parents and their old-fashioned beliefs, all while valuing her family, her culture, and her independence and passion. Not always easy!
In both the Magical Dressmaking and Bread Shop mysteries, the love interests are Latino. A little snippet from my real life! The communities are diverse, as are the friends of my characters. In the Bread Shop mysteries, for example, Ivy's brother Billy is in a relationship with Emmaline Davis, a Black woman in law enforcement. Billy's best friend is Japanese American. The Bread for Life women are a diverse group. Olaya, Ivy's mentor, is a Mexican business owner. These elements really round out the books for me.
I feel it is so important to have books that are a mirror to life.
Who has been the most difficult character for you to write? Why?
I find the villains to be the most challenging to write. Their motivations have to be solid. They have to be well-rounded. Their actions have to be warranted in their own eyes. After all, they are the heroes of their own stories. Since I'm not a villain in real life, it's sometimes difficult to put myself into their shoes.
If you could be one of your characters for a day which character would it be? Why?
Oh, wow. That's a tough one. My first gut reaction to that is Lola Cruz. I love her fearlessness, her determination, and her spunkiness. That being said, all of my heroines reflect me in one way or another. That's why I relate and connect with them so well. I'd be happy being any of them.
Oh, and Penelope Branford because she's a hoot!
Do you have a secret talent readers would be surprised by?
I'm 54 and I recently completed my 200 hour teacher training for yoga. It was really challenging in a lot of ways, very inspiring and humbling, and took some grit to get through it. Now I'm teaching one class a week and really loving it!
Your favorite go to drink or food when the world goes crazy!
We eat gluten free and we just discovered a small pizza oven and Italian gluten free flour. It is the best pizza we've had.
I'm an unsweet iced tea drinker, and I'm enjoying wine with dinner. I love a gin & tonic, too, and frosty margaritas!
Thank you for having me, and happy reading!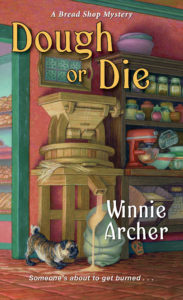 DOUGH OR DIE……….
Known for its mouthwatering traditional breads, the Yeast of Eden bakery has gained fame across Northern California's coast. Now the shop is bound for Reality TV—but a murder may kill its reputation . . .
 
People come to the beach town of Santa Sofia as much for the healing properties of Yeast of Eden's breads as for a vacation getaway. And now a cable food channel has selected the bakery as a featured culinary delight for a new show. Baking apprentice Ivy Culpepper is excited as the crew arrives, ready to capture all the ins and outs of the renowned bread shop. But instead they capture something much harder to stomach: the attempted murdered of the show's cameraman just outside Yeast of Eden . . .
 
With no motive and no clues, and the town craving answers, it will be up to Ivy to sift through the evidence to find the truth. But she'll have to move quickly before someone else is targeted or the wrong person gets the heat—and the business collapses like a deflated soufflé, right before her eyes.
YOU CAN PURCHASE DOUG OR DIE AT:
Amazon
About the Author:
Melissa Bourbon is the national bestselling author of more than twenty mystery books, including the brand new collaborative Book Magic mysteries, the Lola Cruz Mysteries, A Magical Dressmaking Mystery series, and the Bread Shop Mysteries, written as Winnie Archer. She is a former middle school English teacher who gave up the classroom in order to live in her imagination full time. Melissa, a California native who has lived in Texas and Colorado, now calls the southeast home. She hikes, practices yoga, cooks, and is slowly but surely discovering all the great restaurants in the Carolinas. Since four of her five amazing kids are living their lives, scattered throughout the country, her dogs, Bean, the pug, and Dobby, the chug, keep her company while she writes. Melissa lives in North Carolina with her educator husband, Carlos, and their youngest son. She is beyond fortunate to be living the life of her dreams.
Social media links:
Facebook: https://www.facebook.com/MelissaBourbonWinnieArcherBooks
Facebook Book Group: https://www.facebook.com/groups/BookWarriors
Instagram: https://www.instagram.com/melissabourbonbooks/
Buy Links: https://melissabourbon.com/bookshelf/dough-or-die-book-5/