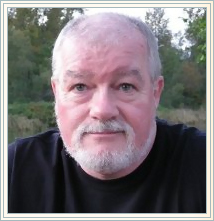 BC AUTHOR INDUCTED INTO CANADIAN SCIENCE FICTION & FANTASY HALL OF FAME – AURORA AWARDS
BC author Matt Hughes has been inducted into the Canadian Science Fiction & Fantasy Association's Hall of Fame.
The CSFFA's Hall of Fame was created to honour authors and other creators who have made a substantial contribution to the genres of science fiction and fantasy over a span of decades.  Hughes joins a list of past honorees that includes Robert J. Sawyer, William Gibson, David Cronenberg, Spider Robinson, and Cory Doctorow.
Hughes is the author of 24 novels and 90 pieces of short fiction in the SF, fantasy and crime fiction genres.  He has won the Arthur Ellis Award from the Crime Writers of Canada and has been shortlisted for the Aurora, Nebula, Philip K. Dick, Endeavour, Van Vogt, and Derringer Awards.
His latest novels are A God in Chains (Edge, 2019), a fantasy set in the Dying Earth, and What the Wind Brings (Pulp Literature Press, 2019, a historical novel based on events that happened when shipwrecked African slaves combined with indigenous peoples in coastal Ecuador of the 1500s to fight Spanish conquistadors for their freedom.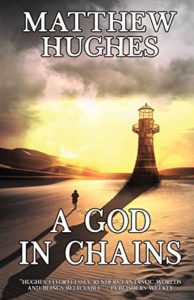 A God in Chains is shortlisted for the Alberta Book Publishing Awards and What the Wind Brings is a finalist for the Endeavour Award.
His current work-in-progress is Barbarians of the Beyond, an authorized sequel to science-fiction grandmaster Jack Vance's iconic quintilogy, The Demon Princes.
Before turning to fiction, Hughes was well known to the British Columbia political and business worlds as a freelance speechwriter, writing for the leaders of all three mainline political parties as well as for the chief executives of many of the province's major corporations.
For the past twelve and a half years, he has been an itinerant housesitter:  a self-described "homeless drifter" who has lived in twelve countries while circumnavigating the globe.
His webpage is at www.matthewhughes.org
ABOUT THE AWARDS:
The Canadian Science Fiction & Fantasy Association Hall of Fame was created to honour people who have over the past number of decades made a great contribution to the genre of Science Fiction and Fantasy. These would include not just people who write but includes people who have made a contribution either professionally or as a fan. We include artists, musicians, scientists, publishers, editors, organizers and fans.
Each year we select three people to be inducted into our Hall of Fame and have their name placed on the Hall of Fame trophy.