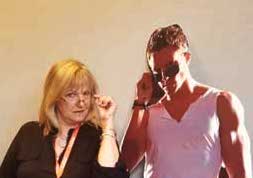 Special Feature
I WAS A SECRET AGENT FOR A DAY – JOCIE MCKADE
Backstory: Back in high school, I was, as now, a voracious reader, and young writer. One of my favorite authors was Robert Ludlum. I envisioned my book character to be a female version of Jason Bourne even down to the Jen Bomar name.
Fast forward: My first job at 15 years old was working as a summer intern at a U.S. Air Force Base. It was a great job and boy, did I take it seriously. Being young and of course patriotic, I envisioned myself like those Bourne/Bomar characters of fiction, and taking my job seriously meant I was in some degree protecting the USA.
Two weeks into the job: My job was working in records, where all military personnel records that were stationed on the base and those that were transitioning through were processed. I had a Master Sergeant boss, who was rather like a bulldog. I adored him.
On The Job Training: "These records are private, you got that?" Msgt. threw down a long and serious looking government form on my desk. "No one, no one, gets any records from this office without this form being presented and signed by (several high ranking officers). Got that, kid?" I nodded. He went on to explain how military records could be used in many not so nice ways…..and 15 year old me gulped, and took that seriously, very seriously.
Co-Workers – I worked with 98% men, who treated me like a kid sister. They were quite fond of playing practical jokes on my young self. Two of them walked past my office door, smiling, pointing and smirking. I looked around and wondered what they had in store. Five minutes later two men (not in uniform) walk into the office. One was older, probably 40, hey, I was 15. The other wasn't much past 18 years old.
The older man introduced himself as a very high ranking officer. The kid stayed quiet. The officer asked me for a person's personnel file. This is how it all began……pretty simple right?
Then….
I asked for the form that was required. That man gave me a look that would have sent my adult self into cardiac arrest. My 15 year old self (channeling Bourne/Bomar) however, saw it as a challenge.
Officer: "I'm with military intelligence and don't need that form."
Jocie laughed, and said, "Oh, yes you do."
He argued. "I most certainly do not."
Jocie: "You aren't getting those records without it, mister."
Officer: Turns to look at the younger man, who honestly is working hard to stifle a laugh.
Officer: Flashes his credentials, trying to be impressive and condescending.
Right at this moment, two of those practical joker co-workers pass the door, and they are nearly bent double laughing. Oh, they did this……they so did this…..it's a set-up for certain. (Later learn, they had something else set-up)
Jocie: "Pluuze, I made a better FBI badge than that at five." I was feeling pretty smug.
Officer: "Excuse me? You've made false federal identification?"
Jocie: "Sure. I was playing secret agent, and I did a better job than you are right now."
I kept wondering how my co-workers got this older man to go along with their joke. They must have promised him beer.
Officer: He stepped forward toward my desk. "I am with the OSI, military intelligence, and I want those records now."
Jocie: I lean forward toward him. "You want those records, you come back with correct form."
Officer wants to use my phone and I reply. "No, it is for authorized military base use only."
At that moment, my boss the Msgt, walks in with the head of our wing, a Colonel at his side. They both stop, stare, and the Colonel nearly swallows his cigar. (yes, at that time one could smoke at work).
The man really was with the Office of Special Investigations—military intelligence, really was a full-bird Colonel, and had never had anyone talk to him with the disrespect I had. My bulldog Msgt. boss replied….."She did her job, sir. You are out of uniform, you have no form, and how's a kid of 15 supposed to know anything about military intelligence procedures?" He handed the officer the records.
Two days later…..I get a box of candy on my desk and an invitation to join military intelligence when I graduated from that Colonel. That's my secret….for one day….I was a bad-ass secret agent standing up against the forces of government forms!
Jocie's latest release is WAR BETWEEN THE STAKES book four in the MAYSON-DICKSON MYSTERY SERIES.​ (releasing Sept. 15th)
How many private investigators have jobs just show up on their doorstep…dead? It's actually not so unusual for Emme Mayson and Jackie Dickson.  They're twin sisters and trouble magnets all rolled into one.
After a long road that included being pushed into a witness protection program, being hired as private investigators by gangsters and having a 'most wanted' hacker living in their basement…..they should have known better, but they answered anyway.
With a four-star general assassinated on their doorstep, a barrage of gangsters and spies not far behind; there aren't enough margaritas in town for this kind of day.
WHEN NORTH MEETS SOUTH IT'S MURDER!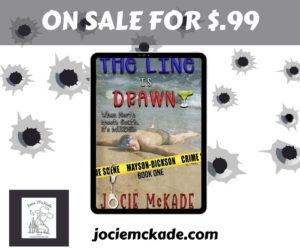 ABOUT THE AUTHOR:
Jocie worked at several jobs before landing her ideal one as a librarian, a perfect segue to becoming an author. 
With a soft spot for U.S. Veterans, she chaired her local Veterans Oral History Project, and her work with the program lead to her speaking before the project committee at the U.S. Library of Congress. She has won several awards for her non-fiction writing on a multitude of subjects. 
Her fiction writing has received the Author / Ambassador at Library Journal Self-e Authors, Winner Queen of the West Reader Favorite Award, Amazon Bestseller – Historical, Double finalist in the Next Generation Indie Book Awards in the Mystery and Humorous Categories, and her novel Baer Truth received 4.5 stars from RT Book Reviews.
Writing humorous cozy mysteries and romantic comedy, Jocie can find humor in most everything, even when she shouldn't. She lives in the Midwest on Dust Bunny Farm with her family. 
https://www.goodreads.com/goodreadscomjociemckade