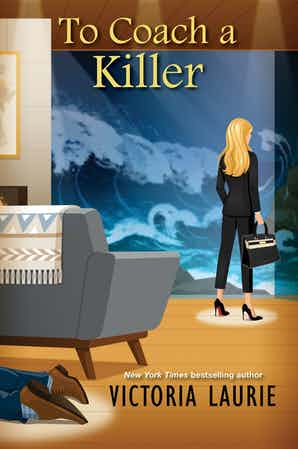 Time for some new cozy mystery reads to snug up with!!
Soaking up a luxurious new chapter alongside her saucy bestie, Cat Cooper plans on emerging as the premier life coach in East Hampton by summertime. All she has to do is survive an offseason replete with desolate beaches, slow business, and murder . . .
As the Hamptons drags through early spring, Cat's shot at becoming the toast of the town in time for Memorial Day is dwindling—and fast. The only client she can find has been housebound for decades and claims to be the victim of a devasting curse. Then there's the matter of Detective Shepherd's intense jealousy over Maks Grinkov, the handsome bad boy who approaches Cat with an unusual offer she can't stop thinking about. Havoc finally breaks loose when a string of murders rocks the coastal community, landing Maks on the hook as the culprit . . .
While the body count rises, Cat goes from life coaching to sleuthing for the truth about Maks's less-than-wholesome background. But after digging deeper, she questions if Detective Shepherd had an unwitting hand in a related homicide case after tangling with the wrong people. With a storm approaching shore and no one to trust, Cat and her sharp-tongued best friend, Gilley, must solve a client's curse and a series of violent deaths before a killer sends them all sailing to their doom . . .
Purchase TO COACH A KILLER at:
Kensington Books
In late nineteenth-century Newport, Rhode Island, journalist Emma Cross discovers the newest form of transportation has become the newest type of murder weapon . . .
 
On a clear July day in 1899, the salty ocean breeze along Bellevue Avenue carries new smells of gasoline and exhaust as Emma, now editor-in-chief of the Newport Messenger, covers Newport's first-ever automobile parade. But the festive atmosphere soon turns to shock as young Philip King drunkenly swerves his motorcar into a wooden figure of a nanny pushing a pram on the obstacle course.
That evening, at a dinner party hosted by Ella King at her magnificent Gothic-inspired "cottage," Kingscote, Emma and her beau Derrick Andrews are enjoying the food and the company when Ella's son staggers in, obviously still inebriated. But the disruption is nothing compared to the urgent shouts of the coachman. Rushing out, they find the family's butler pinned against a tree beneath the front wheels of Philip's motorcar, close to death.
At first, the tragic tableau appears to be a reckless accident—one which could ruin Philip's reputation. But when Emma later receives a message informing her that the butler bullied his staff and took advantage of young maids, she begins to suspect the scene may have been staged and steers the police toward a murder investigation. But while Emma investigates the connections between a competing heir for the King fortune, a mysterious child, an inmate of an insane asylum, and the brutal boxing rings of Providence, a killer remains at large—with unfinished business to attend to . . .
Purchase MURDER AT KINGSCOTE at:
Kensington Books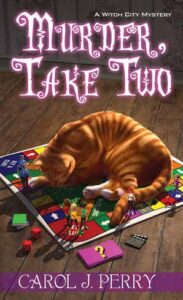 Murder, Take Two — A Humorous & Magical Cozy Mystery
A Witch City Mystery #10
by 
Carol J. Perry.  
A fun cozy mystery of witches, magic, and the haunted history of Salem, Massachusetts!
 
When a copycat killer has reporter Lee Barrett brushing up on ancient history, it's a test where failure could be lethal . . .
As a Salem, Massachusetts, native, WICH-TV field reporter and amateur sleuth Lee Barrett is well versed in the region's lore. So when the murder of revered local professor Samuel Bond resembles a killing from almost two centuries ago, everyone is on edge. Especially assistant professor Cody McGinnis . . .
Not only did Cody have differences with Bond, he even taught a course on the historic murder. And when his fingerprints and ladder are found at the crime scene, the police are certain of his guilt. Cody's family, however, believes otherwise and asks Lee for assistance. Now, with the help of her clairvoyant cat, O'Ryan, her tech-savvy librarian aunt and housemate Ibby, and Pete Mondello, her handsome detective beau, Lee will delve deeper than ever into Salem's past—and into her own psychic gifts—to find the real killer—before someone else is history . . .
 
Praise for the Witch City Mysteries
"Perfectly relaxing and readable."
—Kirkus Reviews
 
Purchase MURDER, TAKE TWO at:
Kensington Books
Welcome to Shenandoah Springs, Virginia, the bucolic small town where Brynn MacAlister keeps cows, churns cheeses—and is sharper than the ripest cheddar when it comes to solving mysteries . . .
With a foster cow in her corral and a new calf on the way, Brynn MacAlister has a lot on her plate. Especially since her micro-dairy farm is hosting the first annual cheesemakers contest at this year's summer fair. A relative newcomer, Brynn's hoping the contest becomes a tradition, bonding her even more strongly to the community. But when a mysterious tractor accident looks suspiciously like murder, Brynn suspects someone is up to
no-gouda . . .
Some folks say the lead suspect was just defending his underage daughter from a suitor more mature than a vintage provolone, but Brynn isn't buying it. Especially when another dead body turns up and Brynn's top cheesemaker falls under suspicion. It's enough to make a girl bluer than her best Stilton. But not enough to stop Brynn from getting to the bottom of things. What she discovers is the small town harbors some pretty unsavory characters. And the closer Brynn gets to the killer, the deeper she gets into danger . . .
Purchase GOODNIGHT MOO at:
Kensington Books
Known for its mouthwatering traditional breads, the Yeast of Eden bakery has gained fame across Northern California's coast. Now the shop is bound for Reality TV—but a murder may kill its reputation . . .
 
People come to the beach town of Santa Sofia as much for the healing properties of Yeast of Eden's breads as for a vacation getaway. And now a cable food channel has selected the bakery as a featured culinary delight for a new show. Baking apprentice Ivy Culpepper is excited as the crew arrives, ready to capture all the ins and outs of the renowned bread shop. But instead they capture something much harder to stomach: the attempted murdered of the show's cameraman just outside Yeast of Eden . . .
With no motive and no clues, and the town craving answers, it will be up to Ivy to sift through the evidence to find the truth. But she'll have to move quickly before someone else is targeted or the wrong person gets the heat—and the business collapses like a deflated soufflé, right before her eyes.
Purchase DOUGH OR DIE at:
Kensington Books