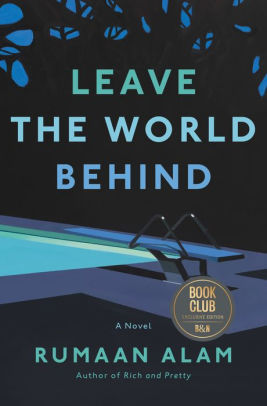 Barnes & Noble Selects Rumaan Alam's Leave the World Behind as October 2020 National Book Club Selection
Barnes & Noble, Inc., today announced Leave the World Behind  by Rumaan Alam as the October 2020 selection for the Barnes & Noble Book Club, a monthly book club designed for readers across the country to discuss the most compelling books. Barnes & Noble is selling a special, exclusive Book Club edition of Leave the World Behind  as well as hosting a free LIVE virtual event on B&N's Facebook Page with Rumaan Alam in conversation with Laura Lippman, the bestselling author of numerous novels including the most recent Lady in the Lake, about the book on Tuesday, October 27, at 7pm East Coast Time. Customers can purchase the exclusive edition in-stores or online at BN.com.
"Rumaan Alam's writing is striking, smart and brilliant. His new book Leave the World Behind is atmospheric and provocative, painting a familial picture that soon devolves into cinematic catastrophe," said Jackie De Leo, Vice President, Bookstore, Barnes & Noble. "This is a striking novel that will leave you looking at your own world in a different way. Vibrant, tense and thrilling, it's an absolute must-read and will leave you feeling like you need to talk about it with anyone and everyone around you, which is why we've made it our October 2020 B&N Book Club selection"
While Barnes & Noble can't hold its usual monthly Book Club meetup in stores for readers to discuss the book, the bookseller is encouraging customers to engage with this important and gripping novel on social media and join the new B&N Book Club Facebook Group, as well as through a special virtual Book Club event a month after publication.
"I've been extremely lucky to have the support of Barnes & Noble and its booksellers throughout my career," said Rumaan Alam. "It was such a great honor when my first novel, Rich and Pretty, was chosen for the Discover program, which I continue to consider one of the best ways to find the most interesting new writers. And I could not be more thrilled to find my third novel is a Barnes & Noble Book Club pick."
The virtual event on October 27 will be hosted on Barnes & Noble's Facebook Page and will include a conversation between Rumaan Alam and Laura Lippman. Before the virtual event, customers can also join in discussion at their convenience in the new B&N Book Club Facebook group and on social media via the hashtag #BNBookClub.