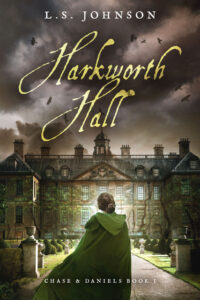 Ask him about his wives.
Caroline Daniels must marry, and marry well. But in her remote corner of England eligible suitors are few and far between, and none hold a candle to her closest friend, Diana Fitzroy.
When Sir Edward Masterson arrives, he seems the answer to Caroline's financial worries, though she instinctively dislikes the reticent, older merchant. Soon Sir Edward has set his sights on acquiring both Caroline and the decaying Harkworth Hall.
Caroline's future seems secure, save that Sir Edward's enigmatic secretary hints at a dark secret, and Sir Edward shows an unusual interest in the nearby bay. To discover Sir Edward's true purpose, Caroline will have to face the horror beneath Harkworth Hall—and the woman who will change her life.
A historical full of suspense and mystery! Get a sneak peek at HARKWORTH HALL by L.S. Johnson!
Here's the entire first chapter!
Chapter I
The Birds
I first heard of Edward Masterson the day of the birds, though I forgot about them through much of what happened after. Indeed, in the moment, their strange flight was only a disturbing inconvenience, as it turned my father back from his walk to the village on laundry day.
My father was a gentleman of small, regular habits. He walked to the village twice each week, to gain news of the wider world and have two pints of ale before walking back. In winter, he had Mr. Simmons, who served as our steward as well as sometime butler and valet, drive him. But in the fine weather of late spring he would set off walking, in his plain suit but with his sword polished and ready should he meet any ruffians.
The rest of our little household—myself and Mr. and Mrs. Simmons; my poor mother had passed when I was young—would plan much around this simple outing, for the house was too much work for the Simmonses alone. My father made no objection to my helping with light chores such as dusting, but he had recently been infected with the disease of matchmaking, and he feared for my prospects should I develop a working woman's hands and complexion. His solution for our overworked staff was to simply hire more help as needed, but I often snuck into his study to review our account books and there was no surplus for such luxuries. Thus, I learned to separate want from necessity, and while other women my age were dancing at assemblies or practicing their needlework, I was scrubbing floors and learning to make pastry. I learned, and I learned as well to not reflect upon my circumstances, lest I fall into melancholy—and many days there was simply no time for such indulgence. As soon as my father left, I put aside my role as Caroline Daniels, landowner's daughter, and became Caroline Daniels, maid, stableboy, or whatever we needed me to be. Laundry especially was a daylong affair, and more than once we had sent Mr. Simmons out to delay my father so we could get the last damp pieces inside before he returned.
My father left, drawing the door closed behind him. I waited in the hall, seeing in my mind's eye his stout figure striding down the drive. Now he would pat his pockets, ensuring he had a shilling but little more, for he had once been robbed on his return and had a fine watch and several shillings taken off him. Now he would think about that watch, and touch his sword in reassurance. All was well and nothing was forgotten; he could enjoy his journey in peace, and we could set about our work. I counted to fifty, then with a deep breath seized the first laundry basket and began dragging it back to the yard—
—when I heard the terrible sound of the door swinging open again, and my father bellowing for Mr. Simmons. At once I dropped the basket, smiling brightly. My smile faded, however, when I saw the spatters on his hat and coat, including a red smear on his face.
"Are you all right? Did you fall?" I rushed towards him, thinking to stop any bleeding with my apron.
"Quite all right," he said. "Only the birds are going mad."
For a moment I stared at him, believing I misheard him, but then I saw movement in the sky past his shoulder. Birds of all sizes and shapes, flying at odd angles to each other but all heading inland. As I watched two collided, then set at each other with horrific shrieks and bared claws. Feathers drifted down as they fought.
"I've never seen anything like it. It's quite late in the year to be mating, and there are gulls up there. They usually stay close to the shore—" My father suddenly broke off, frowning at the laundry basket. "What are you doing with that laundry?"
"I was looking for a petticoat," I said quickly. "I cannot find it anywhere."
He gave me a suspicious look, but I was saved from further inquiry by Mr. Simmons appearing. As he fetched my father a fresh coat, I slipped past him and went out onto the drive. Dozens of birds filled the sky, and save for when their paths provoked a conflict, they were doing so in near silence, as if they needed all their strength to fly. But what were they flying towards—or were they fleeing something? I scanned the horizon: there was not so much as a cloud, not a hint of an incoming storm.
Above me two more birds crossed paths, and the larger one viciously raked the smaller. It tumbled to the ground, then carefully righted itself and began limping forward, still heading unerringly inland.
"Caroline, dear, don't distress yourself with such sights." My father took my arm and led me back to the house.
"But what could be causing it?" I asked, still craning my head. "Something has frightened them, something worse than a storm."
"They were probably startled by an animal—perhaps we have a wolf again. I'll ask in the village," he said. "Oh, and I forgot to tell you! I will be stopping at the Fitzroys' on my way home. I was thinking if Diana spends the season in town again, perhaps you could join her? A stay of some weeks will help you become more comfortable in society, and develop your acquaintanceships further."
And there were so many replies I wished to make, all at once. The Fitzroys were our closest neighbors, and Diana my oldest friend. Having both lost our mothers early, and without siblings, we had been for a time closer than sisters. The memories of our girlhood, pretending to be the pirates Anne Bonny and Mary Read, or the tragic princess Caroline, still filled me with longing. But the Fitzroys' finances had flourished where ours had declined, and I took no pleasure in the prospect of marriage. A season with Diana promised only embarrassing shortfalls and uncomfortable encounters.
I wanted to say all these things, and that I had seen far worse than a wounded bird in my life, for had I not seen my own mother die in childbirth? But such was not the speech of a dutiful daughter, and I quailed at the thought of disrupting our affectionate relationship. I was still struggling for words when he kissed me on my forehead and shooed me back inside, as if I was still a little girl.
***
I anticipated some return to the subject of laundry when my father came home, and I took care to soothe my reddened hands well before his return. But his disapproval never arrived. The Theophilus Daniels who returned was gaily whistling and positively beamed at the sight of me, despite the fact that I was helping Mrs. Simmons set the table for dinner.
"You will never guess where I have been," he declared, sitting on a stair riser and wrestling off his muddy boots.
"You were at Uncle Stuart's, sampling his port," I said, laughing, as I bent to help him. So close had we been with the Fitzroys' in my childhood, that I had taken to calling Mr. Fitzroy "Uncle," and Diana referred to my father as the same.
"Indeed I was," my father said, smiling like a little boy. "But I was not the only one! He had another visitor." He held out his fingers, as if ticking off a list. "A business acquaintance, staying in the village. Older than you, but quite worldly and prosperous. Looking for an estate to let, where he can bring friends for the weekend." His smile broadened. "Such conversation! Such carriage, such refinement! I tell you, Caroline, I have not met such a true gentleman since we were in town last season. Did I mention his business? He runs a most successful trading company. The stories he had, some of the places he's been! I could have listened to him all evening."
"And what, pray tell, is this magical man's name?" I asked, helping him up from the stairs.
"Pardon?" He blinked at me, as if brought up short by the question, and then burst out laughing. "Oh my, I didn't even say, did I? His name, my dear, is Sir Edward Masterson."
Author bio:
L.S. Johnson lives in Northern California, where she feeds her cats by working in a library. She is the author of the Chase & Daniels series of gothic novellas. Her first collection, Vacui Magia, won the North Street Book Prize and was a finalist for the World Fantasy Award. Her second collection, Rare Birds, is now available. Find her online and sign up for her newsletter at www.traversingz.com.
Website and URLs for any social media:
A link to where to buy the book (optional):