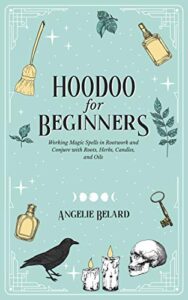 Hoodoo for Beginners by Angelie Belard is fun whether you believe in hoodoo or not. I loved the stories she included about her own history and this was such a fun book that I've started following the author to make sure I see what else she's writing.
Like I said, this is her personal story about Hoodoo and how it affected, influenced and interacted with her life.
She talks about and teaches things about spells and cleansing and so much more. You learn about rootwork, powders, oils, candles, colors, what to say, how to say it and what to do. It addresses so much that I just can't list it all.
If you've ever wondered about magic, real magic, I highly recommend this book!
5-Stars!
About – Have you begun to realize that there is more to the world than what you can see? Can you feel your ancestors calling out to you? Are you ready to begin walking the path of spirituality and magic? Then Hoodoo for Beginners is the perfect first step.
Hoodoo is old North American folk magic, born from African spiritual traditions brought over by slaves.  Over the centuries it incorporated Native American and European influences, using what worked and discarding what did not. This process has made Hoodoo into an adaptable, powerful magical system that works.
Angelie Belard has helped hundreds of people with their problems using the potent and practical magic of Hoodoo.  From customers who needed help with financial or romantic problems, to friends and loved ones who wanted a way to connect to their ancestral roots, she has used Hoodoo to improve and enrich their lives. Now she's ready to share her lifetime of learning with you.
In this book you'll learn:
◆ What Hoodoo is and how it began
◆ How to begin working with your ancestors
◆ The importance of crossroads and graveyards
◆ What Rootwork is and how to use herbs and roots in your magic
◆ The importance of spiritual cleansing
◆ How to work with candle magic and conjure oils
◆ How to make your own mojo bags to carry magic with you
This book covers everything you need to know to get started with Hoodoo, and includes over twenty five simple spells to draw money to you, bring luck and love into your life, and protect yourself from evil.
Hoodoo was hidden by its practitioners for hundreds of years, but now you can safely get started with information you won't find anywhere else.