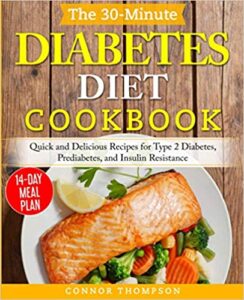 I loved The 30-Minute Diet Cookbook so much I bought it in ebook and print. I've been trying to teach myself to eat better and so far have lost 50 pounds. But it can be a challenge if you don't have food you love.
It starts out talking very basic about diabetes and I wasn't sure I needed that. But, it progressed into more significant information and I actually learned a lot.
But the best thing about this book are the recipes themselves. Anytime someone says a recipe is for a "diet" I just figure it's something I won't enjoy or that I'll heave to force myself to learn to enjoy. These recipes though are amazing! Lots of flavor. A little something for everyone! Highly recommended!
5-Stars for author Connor Thompson!
About – ★Improve Or Reverse Your Diabetes With The 30-Minute Diabetes Diet Plan Now!★
Do you suffer from type 2 diabetes or are you insulin resistant?
Do you want to correct your condition or even reverse it permanently?
This book contains the answers you are seeking!
For some sufferers of type 2 diabetes, daily life can be a constant struggle and it can be hard to imagine how it could be anything else. Many rely on insulin to regulate the sugar in their bodies, but this is not always the answer and for many it means careful planning around what they eat and drink.
Inside this book, The 30-Minute Diabetes Diet Plan: Quick and Delicious Recipes for Type 2 Diabetes, Prediabetes and Insulin Resistance, you will find a way to combat your diabetes through a change in diet that can see marked improvements in your symptoms, with chapters covering:
The rise of diabetes and the role of insulin
How to spot prediabetes and prevent it
Ways to deal with the disease
The benefits of intermittent fasting and exercise[LW1]
Creating a simple diabetes diet plan
A grocery list and the best foods to eat for diabetics
30-Minute Recipes for every mealtime
Delicious snacks, desserts and drinks
A 14-day meal plan
And more…
Suitable for anyone who has type 2 diabetes, for pre-diabetics or for those with insulin resistance, The 30-Minute Diabetes Diet Plan will show you the way to a healthier diet and lifestyle that will change your life, with recipes that take you just 30 minutes to prepare.
Get a copy and see how it could help you!