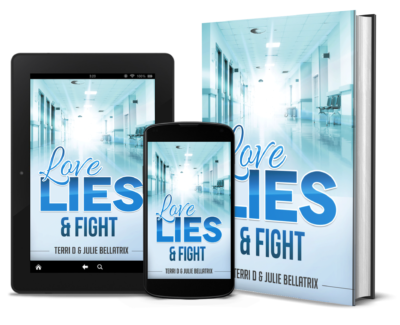 Love, Lies & Fight by Terri D and Julie Bellatrix
What do you do when the love is gone? The lies are revealed. You Fight.
Valerie appeared to have the perfect family life while suffering in silence to formulate her escape plan. When a past indiscretion is revealed will she have the courage and strength to move on and what will get in her way? How will she find the ability to trust anyone again?
Joy is a successful therapist who has helped dozens of addicts over the years. When she decides to take on virtual clients including Valerie, she gets a little more than she bargained for including having to learn to face her own past.
Love, Lies & Fight is an emotionally charged story of how helping others through their pain and issues is sometimes exactly what we need.
Chapter Excerpt: Love, Lies & Fight
Prologue
My name is Joy Dickerson.  I am a Licensed Professional Counselor.  I have been in this field since graduating from college over 15 years ago.  I wanted to become a counselor ever since I was a teenager.  My mom died when I was sixteen and my older brother Darien and his wife Toni took me in while struggling to deal with my mother's sudden death, which I felt somewhat responsible for.  I never knew my father, so it was a difficult time for me.  I found myself in the middle of major adult drama between my brother Darien, his wife Toni, and their circle of friends.  There were a lot of secrets, lies and half-truths amongst them all.  Ultimately my brother Darien lost his life by being in the wrong place at the wrong time as a direct result of the drama between their friends.  After my experience as a teenager I vowed to help others by becoming a counselor.
This story is not about me though. This is a story about one of my clients named Valerie.  Valerie's story is shared with her permission, names and other details being changed to protect the privacy of those involved.  I have worked with many clients over the years, but Valerie is different.  Once you read her story you will understand why.  The title sums up her journey.  She experienced love, she was betrayed by the lies she had been told, and then she fought to regain her strength and confidence to move forward.