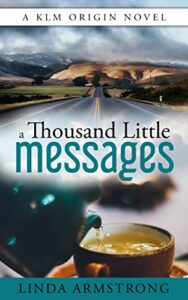 Review – A Thousand Little Messages by Linda Armstrong is an unusual story that turns into a mystery with a missing girl and man our protagonist sees in her (this is interesting) stretch marks.
It's also a tale about women, friendship and has some little life messages along the way.
Some of the writing confused me from time to time, but that could just be me.
If you like mystery and friendship stories check this out.
About – A new romance, a strange cat and a woman in desperate need of help turn Melissa's world upside down. Turning the business of her tea shop to her good friend and employee, Melissa goes on a whirlwind trip to investigate the man she thought she knew.
One missing woman, three states and a Thousand Little messages have Melissa seeing things differently. Finding her life in danger, will she be able to find the man before her friends are left to pick up the pieces?