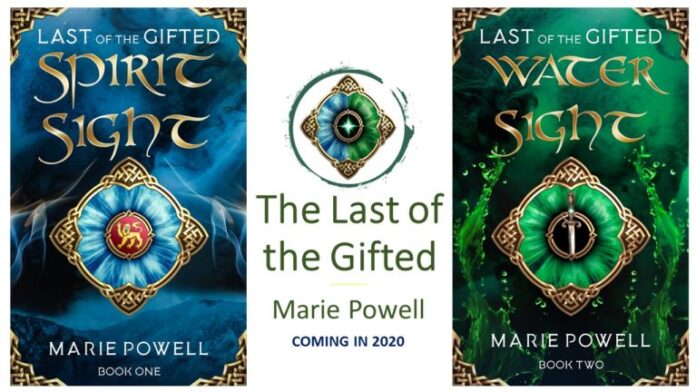 LAST OF THE GIFTED SERIES! WATER SIGHT
A new direction for Award-winning Children's Author, Marie Powell
Winner of the Moonbeam Young Adult Fiction – Bronze Medal
Wales, 1282: A world at war Catrin can see the future in a drop of water. Her brother Hyw can take the shape of any bird or animal. Only their magic can thwart the invading English forces determined to bring down the country. The Prince of Wales needs three magical relics to rally the straggling Welsh forces. Catrin's gift of Second Sight may be the only hope for success – if she can outwit the English lord who wants to use her gift to capture the prince.
Her brother Hyw is on the run with the prince and the dwindling Welsh army. To escape the betrayal dogging their heels, Hyw takes refuge in his evolving gift—until shifting shapes puts his humanity in jeopardy. With Hyw trapped in his magic and her betrothed imprisoned, Catrin faces an impossible choice: save her brother, or save the man she loves.
1282: Wales
A warrior-in-training can control the minds of animals. His sister can see the future in a drop of water. Now they are all that stand between their people and the invading English army. Hyw's gift—seeing through the eyes of birds and animals—could win him a place in the Prince of Wales' bodyguard. But ambush and murder force Hyw to stretch his gift in unexpected ways.
When the prince tries to use Hyw to spy on the invading English, they clash with old friends and ruthless enemies. Hyw's sister Catrin sees visions of death and disaster. The young nobleman she's pledged to marry thinks his love endangers her gift. But they must work together to prevent the genocide she foresees. Can the gifts be trusted? Or will their world shatter around them?
A medieval fantasy that combines magic, mythology, and historical legends with the realities of Wales in 1282.
Amazon.ca: https://www.amazon.ca/gp/product/1989078281
Kindle: https://www.amazon.com/dp/B08GFK8BSJ/
Kobo (ebook): https://www.kobo.com/us/en/ebook/spirit-sight-1
Barnes & Noble: https://www.barnesandnoble.com/w/spirit-sight-marie-powell/1137496305
Chapters/Indigo: https://www.chapters.indigo.ca/
Praise for Spirit Sight:
"Spirit Sight is an imaginative novel that makes clever use of medieval Welsh history and
legend. Young readers will be drawn to the magic powers of Hyw and Cat, transporting them back to a tense and pivotal moment in the history of the United Kingdom, when the last Welsh princes faced down the mighty English army. Readable and well — Daniele
Cybulskie, Author of Life in Medieval Europe
ABOUT THE AUTHOR:
Marie Powell's adventures in castle-hopping across North Wales resulted in her award-winning historical fantasy series, Last of the Gifted. Spirit Sight (Book 1) was released in August, and Water Sight (Book 2) will be released in November. Marie is the author of more than 40 children's books, along with award-winning short stories and poetry. She holds a Master of Fine Arts (MFA) in Creative Writing from UBC, along other degrees. Find more information about Marie at: mariepowell.ca.