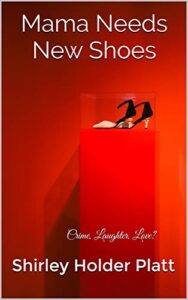 Let's talk about Mama Needs New Shoes: Crime, Laughter, Love By Shirley Holder Platt! First, about the book…
Take one car thief with a shoe fetish, add one FBI agent with a taste for the wild side, mix and stir. What do you get? Crime, laughter, and romance all rolled into one.
When your number's up, what do you do? Punt or that's what this feisty criminal has always done. She unwittingly steals an FBI agent's car, and hijinks ensue. Meeting the hunky agent Carter doesn't slow her down for one minute, but she can't stop thinking about him despite herself. Will he give up his hard-earned reputation for the curvy felon? Or will he follow her down the garden path to crime? Read Mama Needs New Shoes. You'll laugh. You may shake your head at the crazy antics, but you will be entertained. Buy this funny, short read from Award-Winning Author, Shirley Holder Platt now!
4 out of 5 stars
My Review:
This is a fun, fast-paced story involving a feisty woman stealing an FBI agent's car and then it gets crazy from there.
There's romance, humor and mystery.
It did feel a bit like an old 5-and-dime detective novel in a way, but it is set in modern day. It's written in first person and has a lot of witty dialog.
It fast and fun!