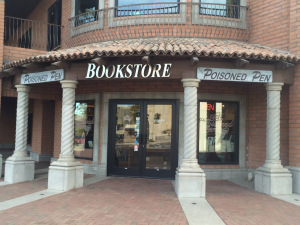 You don't have to live in Scottsdale, AZ to enjoy The Poisoned Pen bookstore! This bookstore has it all! It's like an amusement park for readers!
From fun videos to events, podcasts and book clubs this bookstore sells more than just books, it celebrates them and their authors! If you're a reader you have just found your tribe!
The Poisoned Pen bookstore was founded in 1989 by Barbara G. Peters. It is an independent bookstore specializing in fiction.
It has book clubs that you can participate in!
We don't want you to miss out on anything this amazing bookstore has to offer so we've listed some links below for you to check out!
Facebook – https://www.facebook.com/thepoisonedpenbookstore
Podcasts- https://poisonedpen.podbean.com/
Book clubs – https://poisonedpen.com/book-clubs/
Videos – https://www.youtube.com/channel/UCTbRuLNmD8EhT4WrGGMVW-w
Calendar of events- https://www.poisonedpenevents.com/calendar-2/full-event-listing/