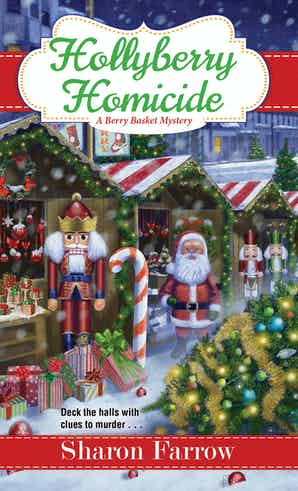 Hollyberry Homicide – A Berry Basket Mystery #5
by Sharon Farrow
A cold wind is blowing off Lake Michigan, and murder is scaring the dickens out of everyone . . .
 
Considering her name, Marlee Jacob is an obvious choice for the role of Jacob Marley in Oriole Point's production of A Christmas Carol. It's just sad that the role has opened up because of the death of the elderly actor who'd originally been cast.
 
But Marlee, the proprietor of The Berry Basket, will do her best to keep spirits high—that is, until clues start mounting that there's danger behind the scenes. There are accidents on set, the tree in the village square topples over, and worst of all, a body is found with a sprig of holly draped over it. If Marlee can't wrap up the case, she may not have a berry merry Christmas . . .
 
Includes Berry Recipes!
You can purchase Hollyberry Homicide at:
Multiple Retailers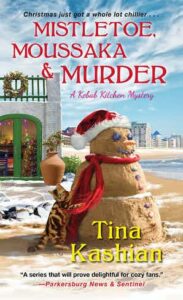 Mistletoe, Moussaka, and Murder — A Kebab Kitchen Mystery #5
by Tina Kashian
Not even her impending nuptials can keep Lucy Berberian, manager of her family-owned Kebab Kitchen, from the Jersey Shore's annual Polar Bear Plunge. But her dive into the icy ocean is especially chilling when she finds a fellow swimmer doing the dead man's float—for real . . .
 
Who would kill a man in cold blood during Ocean Crest, New Jersey's most popular winter event? When Lucy learns the victim is Deacon Spooner, the reception hall owner who turned up his nose—and his price—at her wedding plans, she can't help wondering who wouldn't kill the pompous caterer . . .
Perhaps the culprit is the wedding cake baker whose career Deacon nearly destroyed? Or the angry bride whose reception he ruined? With her maid of honor, Katie, busily planning Lucy's wedding without her, Lucy will have to get to the bottom of this cold-hearted business in time for Kebab Kitchen's mouthwatering Christmas celebration—and before her hometown's holiday spirit washes out to sea . . .
Recipes included!
You can purchase MISTLETOE, MOUSSAKA, AND MURDERA at:
Multiple Retailers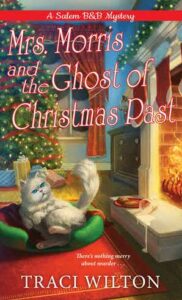 Mrs. Morris and the Ghost of Christmas Past — A Salem B&B Mystery #3
by Traci Wilton
Salem, Massachusetts B&B owner Charlene Morris is looking into a holiday hit-and-run, with a little help from her ghostly housemate . . .
 
Charlene's parents are in town for Christmas, and her mother is driving her up a tree. Her bed-and-breakfast's resident ghost, Jack, isn't fond of her either—and he's showing it with some haunting high jinks. But when Charlene takes her mom and dad out for dinner, the less-than-seasonal spirits take a deadly turn.
David Baldwin has just won a fortune in the lottery—and it adds a lot of drama to the charity auction he's hosting at his restaurant. When he caps off the evening by playing Santa and handing out checks to some of the attendees, the mood shifts . . . and Charlene observes mysterious tensions between David and his flashy, bleached-blonde wife, his neglected teenage son from a previous marriage, and his hostile business partner, among others. And they're only a few on the long list of potential suspects when David runs into the road and is mowed down by a fleeing motorist. Now it looks like it's going to be homicide for the holidays . . .
You can purchase MRS. MORRIS AND THE GHOST OF CHRISTMAS PAST at:
Multiple Retailers