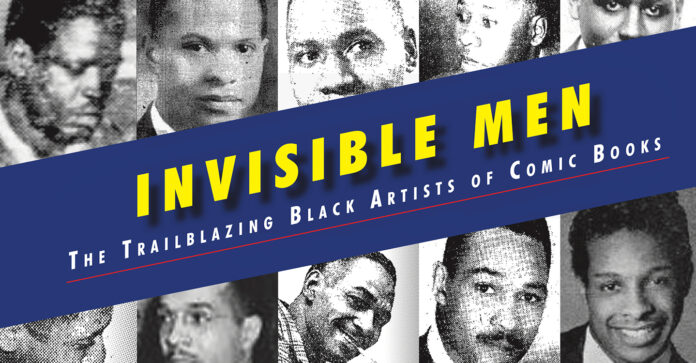 INVISIBLE MEN: THE TRAILBLAZING BLACK ARTISTS OF COMIC BOOKS
Sheds Light on the Struggles and Triumphs of Black Pioneers
During the formative years of the comic book industry, talented Black artists worked behind-the-scenes to create thrilling tales of superheroes, horror, and romance. Invisible Men: The Trailblazing Black Artists of Comic Books, a new hardcover book by comics historian Ken Quattro, is a riveting exploration of this little-known history, published by Yoe Books, an IDW imprint, and debuting tomorrow, December 15th.
Using primary source material from World War II-era Black newspapers and magazines, this compelling book profiles pioneers like E.C. Stoner, a renowned fine artist of the Harlem Renaissance and the first Black artist to draw comic books; Owen Middleton, whose life sentence in Sing Sing became a cause célèbre championed by historian Will Durant, leading both to freedom and a career in comics; Matt Baker, who drew Vooda, the first groundbreaking Black comic book hero; and many more. Each man's personal struggles and triumphs are represented as they broke through into an industry formerly occupied only by whites.
Gorgeously illustrated with rare examples of each artist's work, Invisible Men features Ken Quattro's impeccable research of the social and cultural environments in which these extraordinary men lived and worked, plus full stories from mainstream comic books, rare reprints from titlles including All-Negro Comics and Negro Heroes, and unpublished artist's photos.
"The Black artists profiled in this book lived and worked among the white population but remained unseen and unknown to those same people. My research, taken mostly from sources within the contemporaneous Black media, was for me both revealing and humbling. I hope that by sharing these revelations, others will be inspired," says Quattro.
"Ken Ouattro's engrossing writing, based on over two decades of impeccable research, finally gives foundational black comic artists their due. This unknown but vital part of comics history which Ken has so stunningly revealed will make the timely Invisible Men: The Trailblazing Black Artists of Comic Books one of the most talked about and important books of the comics field," says Yoe Books editor, Craig Yoe.
Early reviews from Quattro's peers in the arena of comics history have been overwhelmingly positive, and include:
"An indispensable contribution to the history of American comics, for fans and scholars alike." — Qiana Whitted, editor of Inks: The Journal of the Comics Studies, and author of EC Comics: Race, Shock, and Social Protest
"A long neglected chapter of comic book history brought to light by a master scribe!" — Prof. William H. Foster III, comic book historian and author of Looking For A Face Like Mine
"The book is a revelation because of the sheer number of talented artists Quattro has discovered, and it's a memorial because of his meticulous research, which he has used to document the lives and accomplishments of a generation of barely- to completely-unknown Black comics artists." —Calvin Reid, senior news editor of Publishers Weekly and co-editor of PW Comics World
"Dogged research and choice archival reprints make this volume an essential reference for pop culture history. Eighteen African American comics creators receive overdue hero treatment in this collection that documents their essential roles in the rise of graphic pulp literature within the struggle for Black equality in postwar America." — Publishers Weekly
"This is the most complete list of Black Golden Age artists I've ever seen, complete with photos and examples of their work… a crucial historical document." — Reginald Hudlin, Producer/Director
"A timely and information-packed book giving tribute to a host of unsung Black creators of fabulous four-color art and comics." — Karen Green, curator for Comics and Cartoons, Rare Book & Manuscript Library, Columbia University
"Invisible Men highlights forgotten yet essential figures in our industry. Bravo to Mr. Quattro for finally giving them their due." — Keith Knight, Creator of The K Chronicles and Woke
Invisible Men: The Trailblazing Black Artists of Comic Books
by Ken Quattro
ISBN 978-1-68405-586-9
$34.99 US / $53.99 CAN
240-page, full color hardcover, 8.5" x 11″
December 15, 2020