In 2020 I learned…..By Rachael Tamayo
We started the year with new hope. Hope of fresh starts and new opportunities, as we always do at the close of one year and the dawn of the next. Of course, we had no idea that in early spring the rug would be pulled out from under us. Not only as a nation, but as a global community. Not having had a pandemic in the last one hundred years, we were caught off guard, despite what history taught us and the whispered warnings of professionals that saw it coming.
We were blindsided, to say the least.   
But in all of this, I think we all learned something, not just about ourselves but about humanity. We were driven into our homes with nothing but our hopes in our savings and what little we could get from the government to sustain us.
Our hopes put into the guidance of the healthcare system to protect us and our loved ones.
We saw just who would step up and man the front lines for us in the form of emergency workers, healthcare providers, retail workers, and for forth.
But, with all this said, what did we learn? What did I learn?
For a while I worked from home due to school closures in my area. I was responsible for my son's online learning. From that, I learned that teachers are unsung heroes. I have always known that I do not have the temperament to be a teacher, but I think many of us parents were faced with this lesson and will forever be grateful to those that made us what we are. Learning that we should fall at the feet of those that teach not only us, but our children, for these people will shape the future of our entire world.
I learned that Teachers are the makers of worlds.
When we feared lock down many of us freaked out. Not having ever seen anything like this in our lifetime, we had no idea what to expect. History taught us that we would be okay, but there nags that little voice in the back of our head that whispers to us: but will we be okay?  So, store shelves were decimated. Lines formed; people started to horde supplies. We spent entire paychecks at the grocery store, fearing we would run out of supplies.  But we made it. Thanks to tireless retail workers that put themselves in harms way of a virus that we still to this day don't totally understand, and they do it still. Stores implemented emergency plans and took what might have been something horrible that caused riots and turned it into organized chaos. Lines and product limits and constant restocking and truck deliveries.
I learned that someone, somewhere will always step up and be a hero in the darkness. Retail workers did this for us. They stepped into the fire, took over, and when this is all over the monotony of day-to-day life will force them back into the shadow where they will be forgotten once again. And they will be okay with that.
Then there will always be those that we never saw. They were not on the news. Their name was not in the paper. They did not get a bonus for what they did. They just did it and went home. Those that take care of our elderly. Those that come in and clean up after us. Those that work in fast food and feed us on a daily basis. Those that drove our kids to school for us or opened childcare centers so that we might get to work. Those that picked up our trash or delivered our mail. Those that brought packages to the door so that we might be safe and stay at home.
I learned that true heroes don't need clout. They don't need attention, or acknowledgement. They do it because they want to, and for no other reason. They do it because it must be done.
Heroes come in all shapes and sizes, and many of them we never see, or even think about.  Now we will remember 2020 as a bad year, yes. We will remember it as a year that a mirror was held up to each and every one of us and we saw the truest forms of ourselves.
So, that begs the question, what did you see in that mirror?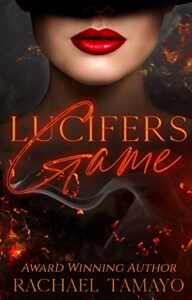 Take a look at Rachael's latest release LUCIFER'S GAME
Cora Davies is on the Devil's playground now. Unable to conceive, Cora and Andrew are on the brink of divorce. When Andrew moves out Cora is left alone to deal with her depression, it's just what He's been waiting for. Now Cora is fair game.
One young woman will be caught by Lucifer and his right-hand man, Devin, the beautiful demon of lust. Trapped in the crossfire of the age-old battle of good versus
evil, A choice must be made. With eternity at stake for all involved, everything rides on this broken couple. The fallen angels have declared war, and only one is strong enough to
fight. Only one can save her soul. But is it too late?
ABOUT THE AUTHOR:
Rachael Tamayo is a former veteran 911 operator and an international bestselling author, and a number one best seller on Amazon. She is the author of the Deadly Sins series, and the award-winning thriller, Crazy Love. She lives in Houston, Texas with her husband and their two children.