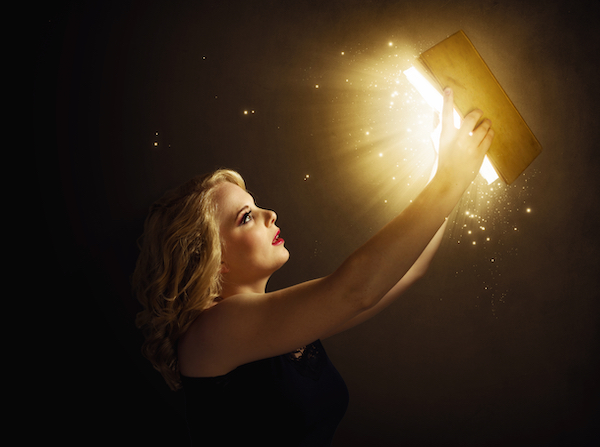 Books that lifted our staff in 2020 and maybe they'll lift others in 2021!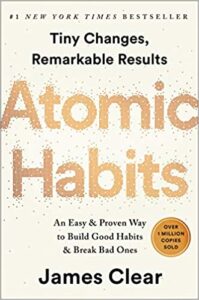 Atomic Habits: An Easy & Proven Way to Build Good Habits & Break Bad Ones by James Clear
No matter your goals, Atomic Habits offers a proven framework for improving–every day. James Clear, one of the world's leading experts on habit formation, reveals practical strategies that will teach you exactly how to form good habits, break bad ones, and master the tiny behaviors that lead to remarkable results.
If you're having trouble changing your habits, the problem isn't you. The problem is your system. Bad habits repeat themselves again and again not because you don't want to change, but because you have the wrong system for change. You do not rise to the level of your goals. You fall to the level of your systems. Here, you'll get a proven system that can take you to new heights.
Clear is known for his ability to distill complex topics into simple behaviors that can be easily applied to daily life and work. Here, he draws on the most proven ideas from biology, psychology, and neuroscience to create an easy-to-understand guide for making good habits inevitable and bad habits impossible. Along the way, readers will be inspired and entertained with true stories from Olympic gold medalists, award-winning artists, business leaders, life-saving physicians, and star comedians who have used the science of small habits to master their craft and vault to the top of their field.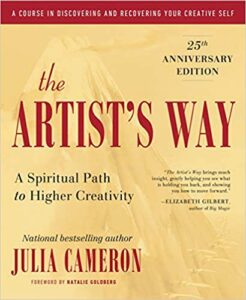 The Artist's Way: 25th Anniversary Edition by Julia Cameron
The Artist's Way phenomena has inspired the genius of Elizabeth Gilbert, Tim Ferriss, and millions of readers to embark on a creative journey and find a deeper connection to process and purpose. Julia Cameron's novel approach guides readers in uncovering problems areas and pressure points that may be restricting their creative flow and offers techniques to free up any areas where they might be stuck, opening up opportunities for self-growth and self-discovery.
The program begins with Cameron's most vital tools for creative recovery – The Morning Pages, a daily writing ritual of three pages of stream-of-conscious, and The Artist Date, a dedicated block of time to nurture your inner artist. From there, she shares hundreds of exercises, activities, and prompts to help readers thoroughly explore each chapter. She also offers guidance on starting a "Creative Cluster" of fellow artists who will support you in your creative endeavors.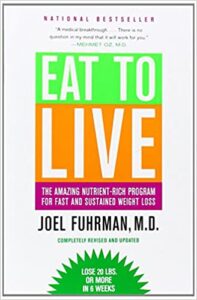 Eat to Live: The Amazing Nutrient-Rich Program for Fast and Sustained Weight Loss by Joel Fuhrman, MD
The Eat To Live 2011 revised edition includes updated scientific research supporting Dr. Fuhrman's revolutionary six-week plan and a brand new chapter highlighting Dr. Fuhrman's discovery of toxic hunger and the role of food addiction in weight issues.  This new chapter provides novel and important insights into weight gain. It explains how and why eating the wrong foods causes toxic hunger and the desire to over consume calories; whereas a diet of high micronutrient quality causes true hunger which decreases the sensations leading to food cravings and overeating behaviors.  It instructs readers on how to leave behind the discomfort of toxic hunger, cravings, and addictions to unhealthy foods.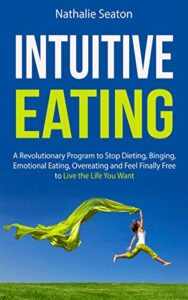 Intuitive Eating: a Revolutionary Program to Stop Dieting, Binging, Emotional Eating, Overeating and Feel Finally Free to Live the Life You Want by Nathalie Seaton
How often have you heard, "You shouldn't eat that because of reasons x,y,z"?
Or how about this one, "Why would you ask me to eat that? You know I'm in the middle of my fasting window!" Your best friend screaming this across the table at you, obviously dealing with some low blood sugar issues.
Statements such as these are all too common nowadays, and with the food and diet industry actively doing all they can to manipulate us into buying more, finding solutions that are actually healthy can often seem quite daunting.
Aren't you sick and tired of all of this? Have you yourself been yo-yo dieting for far too long? Maybe you've tried it all and nothing seems to be working? Or maybe you've even succeeded in the past, but the weight, the bloating and the lack of energy just keep coming back?
It doesn't have to be this way. There are certain things we can do for ourselves, habits we can integrate, that will build us a healthy and sustainable lifestyle.
Even if none of the above is true for you, surely you would like to feel less inflamed, more energized, and completely free to eat whatever you like, whenever you like?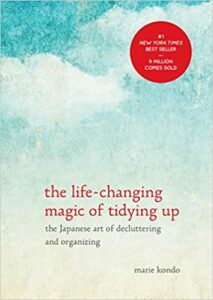 The Life-Changing Magic of Tidying Up: The Japanese Art of Decluttering and Organizing by Marie Kondo
Despite constant efforts to declutter your home, do papers still accumulate like snowdrifts and clothes pile up like a tangled mess of noodles?
Japanese cleaning consultant Marie Kondo takes tidying to a whole new level, promising that if you properly simplify and organize your home once, you'll never have to do it again. Most methods advocate a room-by-room or little-by-little approach, which doom you to pick away at your piles of stuff forever. The KonMari Method, with its revolutionary category-by-category system, leads to lasting results. In fact, none of Kondo's clients have lapsed (and she still has a three-month waiting list).
With detailed guidance for determining which items in your house "spark joy" (and which don't), this international bestseller will help you clear your clutter and enjoy the unique magic of a tidy home—and the calm, motivated mindset it can inspire.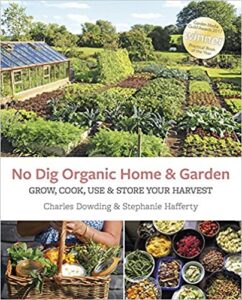 No Dig Organic Home & Garden: Grow, Cook, Use, and Store Your Harvest by Charles Dowding
No dig organic gardening saves time and work. It requires an annual dressing of compost to help accelerate the improvement in soil structure and leads to higher fertility and less weeds. No dig experts Charles Dowding and Stephanie Hafferty, explain how to set up a no dig garden.