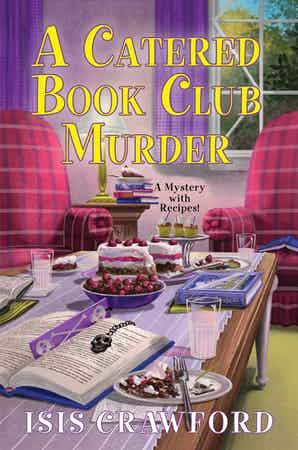 A Catered Book Club Murder by Isis Crawford
Sisters Bernie and Libby Simmons run a catering business in their upstate New York town, and they're delighted for the chance to provide tasty desserts for the local mystery lovers' book club. But when fiction spills into a reality and the sisters find themselves investigating a suspicious death, it's up to them to figure out whodunit…
If anything can be said about the endearingly predictable Margo Hemsley, it's that she always serves elaborate desserts at her mystery book club meetings. That's why everyone fears the worst after she doesn't pick up her order from Bernie and Libby and skips out on the monthly gathering. The Simmons sisters can't imagine their acquaintance vanishing like a character from one of her favorite novels, at least not willingly.
When the search ends with the discovery of a dead body, Bernie and Libby agree to help the nine remaining book club members prove their friend was murdered. But a speed read through Margo's background reveals there was more to the victim than harmless hobbies and frumpy cardigans would suggest. As the sleuthing sisters unearth scandalous secrets about the book club members, they'll have to determine who was connected to Margo's shady dealings–and who sent her to an early grave…
You can purchase A CATERED BOOK CLUB MURDER at:
Various Retailers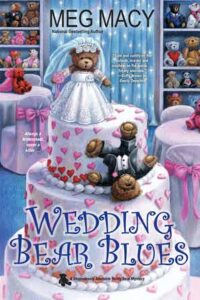 Wedding Bear Blues — A Teddy Bear Mystery #4 by Meg Macy
In the fourth shamelessly adorable Teddy Bear Mystery, teddy bear shop manager and amateur sleuth Sasha Silverman vows to find out who killed the best man in a Valentine's Day wedding when a heartless, ice-pick wielding killer ruins the big day…
Always a bridesmaid, never a killer…
At the Silver Bear Shop and Factory, Sasha will be selling plenty of bride and groom teddy bears come springtime. But this Valentine's Day weekend, she'd take any of those silent, stuffed couples over the real thing. Sasha and her sister Maddie are bridesmaids at Cissy Davison's upcoming wedding in Silver Hollow. Cissy is fuming over the worst choice of best man–the jerk who broke her sister Debbie's heart–and the groom-to-be won't budge in his decision. At the rehearsal dinner you could cut the tension with a wedding cake knife.
That is, until best man Dylan is found dead, impaled with an ice pick. Although jilted Debbie is the most likely suspect–the blood on her dress doesn't help her case–the bride begs Sasha to prove her sister's innocence. If anyone's going to walk down the aisle, Sasha will first need to find the cold-hearted killer who iced Dylan…
You can purchase WEDDING BEAR BLUES at:
Various Retailers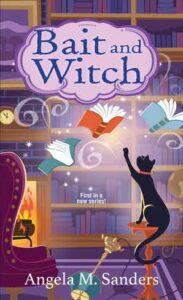 Bait and Witch by Angela M. Sanders
Librarian Josie Way moved to small-town Oregon to lay low. Instead, thanks to newfound magic abilities—and a killer on the loose—she's leapt out of the frying pan and into a cauldron of trouble . . .
Josie Way loved working among the Library of Congress's leather-scented stacks—until she uncovered corruption and made herself a target. As Wilfred, Oregon's new librarian, Josie can stay undercover until the case goes to court. But life in this little town isn't as subdued as she expected. The library, housed in a a Victorian mansion, is slated to be bulldozed. Still digesting the news that her safe haven is about to become scrap lumber, Josie discovers a body in the woods . . .
Almost as shocking, Josie learns that she's descended from a long line of witches—and her powers have suddenly sprung to life. With help from a spoiled alley cat who just may be her familiar, Josie's thumbing through a catalog of suspects, hoping she can conjure a way to save her library—and her life. . .
You can purchase BAIT AND WITCH at:
Various Retailers