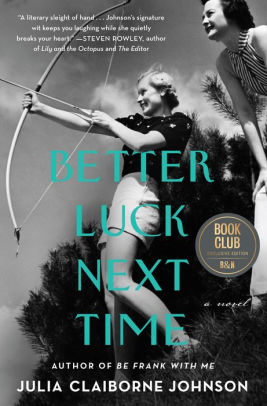 Readers Invited to a Free Virtual Book Club Event Featuring Julia Claiborne Johnson in Conversation with Author Julie Schumacher on Tuesday, February 2
Barnes & Noble, Inc., announced Better Luck Next Time by Julia Claiborne Johnson as the January 2021 selection for the Barnes & Noble Book Club, a monthly book club designed for readers across the country to discuss the most compelling books. Barnes & Noble is selling a special, exclusive Book Club edition of Better Luck Next Time as well as hosting a free LIVE virtual event on B&N's Facebook Page with Julia Claiborne Johnson in conversation with Julie Schumacher, author of Dear Committee Members and The Shakespeare Requirement, about the book on Tuesday, February 2, at 7pm East Coast Time. Customers can purchase the exclusive edition, featuring a discussion guide for book clubs, in-stores or online at BN.com.
"I am so excited to kick off a new year of the Barnes & Noble Book Club with the riveting and thoughtful Better Luck Next Time," said Jackie De Leo, Vice President, Bookstore, Barnes & Noble. "This funny and charming story of friendship and love, set in late 1930s Reno on a Divorce Ranch, is a look at the ways friendship can save us, love can destroy us, and the family we create can be stronger than the family we come from. Julia Claiborne Johnson's sophomore outing is a triumph and we are sure our Book Clubs readers will enjoy it as much as we did."
Barnes & Noble invites customers to join the B&N Book Club Facebook Group to share their views of the book as well as attend the virtual Book Club event one month after publication to hear from Julia Claiborne Johnson.
"When I moved to New York City in the 1980s with dreams of becoming a writer someday, I haunted the old Barnes & Noble flagship store down on Fifth Avenue and 18th Street," said Julia Claiborne Johnson. "There are not enough words in my vocabulary—yet—to thank you for choosing my novel Better Luck Next Time as the B&N Book Club pick for January."
The virtual event on February 2 will be hosted on Barnes & Noble's Facebook Page and will include a conversation between Julia Claiborne Johnson and author Julie Schumacher. Before the virtual event, customers can also join in discussion at their convenience on the new B&N Book Club Facebook group and on social media via the hashtag #BNBookClub.