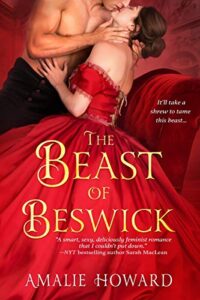 The Beast of Beswick was both hit and miss for me.
3.5 Stars
My review:
It's Taming of the Shrew meets Beauty and the Beast as so many have already said. I love historical romance so I went in wanting to love the story. And there's a lot to enjoy with this book. I'd have given it 3. 5 stars if I could. But, I always round up when that happens.
The story has emotion and a great premise. There's a lot about the characters that I liked. But, Lady Astrid started getting on my nerves after a bit. Here she is asking someone for a huge favor. Huge. Like…marriage and protection huge. But, once she gets her sister and goes to him she treats him like a …shrew. It's like she constantly forgets she is in his debt. It made it hard to continue liking her.
The hero, Thane, is far more likable. He has a sad backstory and is scarred. He's got integrity even if he is gruff.
They go back and forth…do we desire each other? Instead of ramping up the emotion is kind of thins it out.
All that said, I did read it to the end and I would try this author again.
About the book:
Beauty and the Beast meets Taming of the Shrew in this laugh-out-loud and heartfelt Regency romance.
Lord Nathaniel Harte, the disagreeable Duke of Beswick, spends his days smashing porcelain, antagonizing his servants, and snarling at anyone who gets too close. With a ruined face like his, it's hard to like much about the world. Especially smart-mouthed harpies—with lips better suited to kissing than speaking—who brave his castle with indecent proposals.
But Lady Astrid Everleigh will stop at nothing to see her younger sister safe from a notorious scoundrel, even if it means offering herself up on a silver platter to the forbidding Beast of Beswick himself. And by offer, she means what no highborn lady of sound and sensible mind would ever dream of—a tender of marriage with her as his bride.