Welcome Sarah, we're excited to have you on Reader's Entertainment. First, tell our readers a bit about yourself.
Thank you so much for inviting me! I'm fascinated by the drama, daring, and romance of the World War II era, and I've written over a dozen novels set in that time period, including my latest novel, When Twilight Breaks, and the award-winning and bestselling Sunrise at Normandy series.
Is writing your full-time job?
For the past year and a half, it has been. I worked as a hospital pharmacist one day a week when my children were at home, but I quit after our daughter graduated from college. It's been lovely to have plenty of time to write!
How long have you been writing?
Twenty years exactly. Unlike most writers, I didn't plan a writing career but a pharmacy career. In 2000, a story idea hit me hard and wouldn't let go. Since then, I haven't been able to stop writing.
Briefly describe your writing day.
I am not a morning person. While I'm waiting for my coffee to kick in, I take care of emails, social media, and business-related work. Over lunch I read a research book. Then afternoon is writing time!
Tell us about your latest release.
Munich, 1938. Evelyn Brand is an American foreign correspondent determined to expose the tyranny in Nazi Germany. After brutality hits close, American graduate student Peter Lang uses his connections in the Nazi Party to feed information to Evelyn, pulling them deeper into danger as the world marches toward war.
What inspired this book?
A visit to Ellis Island, where I found records of my grandfather's voyage home from Germany in 1936. I knew he studied in Germany, but it had never occurred to me that he studied in Hitler's Germany. My grandfather was a professor of German . . . so I made Peter Lang a graduate student in German. Peter is not—I repeat not—my grandfather, but many parts of his career were inspired by my grandfather.
Could you share one detail from your current release with readers that they might not find in the book? Perhaps a juicy bit of back-story, or something only you know about a character?
It never made it into the story, but Peter's mother was a suffragette. This woman is one of the reasons Peter is intrigued by Evelyn's feistiness and isn't put off by her independent streak. But of course, he'd like to bend that independence just a bit so he can be included in her life.
What has been your hardest scene to write? Any of your books
In my first novel, A Distant Melody, a character finds out some bad news that was very similar to news I'd faced a few years before. The first draft was incredibly dry, and I realized I hadn't mined the emotions I'd felt personally. Because it hurt. I really had to force myself to dig deep in that scene, and now it's one of my favorites. Since then, it's been easier to force myself to write those painful scenes—and I have at least one that wrings me dry in each novel—because I know those are the scenes that have the most impact.
Who has been the most difficult character for you to write? Why?
Any character destined to die. When I'm outlining, it's easy to assign characters to die—it's necessary for the plot, for character development, for the mood, to show just how dangerous the situation is. But as I'm writing the rough draft, these doomed characters inevitably become some of my favorites. I begin arguing with myself, pleading for a stay of execution. But I know I have to do the dirty work and write the story. Sigh.
If you could be one of your characters for a day which character would it be? Why?
I would love to be Evelyn Brand because she's my polar opposite. I'm reserved and cautious and always worried about following the rules. She's bold and brave and hates to follow rules. For one day, it would be fun to have her relentless spirit.
Do you have a secret talent readers would be surprised by?
After ten years of filling out author questionnaires, I'm running out of these answers. My favorite reply is that I know how to jump on and off of a moving merry-go-round. As a college student, I worked as a ride operator at Knott's Berry Farm. However, I haven't tried it in…a few years. It might not end well.
Your favorite go to drink or food when the world goes crazy! 
I do love my coffee and chocolate. However, I've found the best stress reliever for me is exercise, preferably outside. Since we have a new dog who is a walk-oholic, I'm getting lots of stress relief.
And what is your writing Kryptonite?
Interruptions. When I first started writing, my kids were little. If I wanted to write, I had to write anywhere and anytime. And I did. I wrote in the doctor's waiting room and in the karate studio and on the soccer sidelines. But then I had four years of the empty nest and got spoiled by silence. This past year my husband retired early. It's been, shall we say, a learning experience.
Sarah's latest release WHEN TWILIGHT BREAKS releases tomorrow, Feb 2.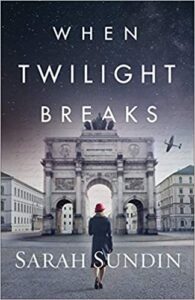 Munich, 1938. Evelyn Brand is an American foreign correspondent as determined to prove her worth in a male-dominated profession as she is to expose the growing tyranny in Nazi Germany. To do so, she must walk a thin line. If she offends the government, she could be expelled from the country–or worse. If she fails to truthfully report on major stories, she'll never be able to give a voice to the oppressed–and wake up the folks back home.
In another part of the city, American graduate student Peter Lang is working on his PhD in German. Disillusioned with the chaos in the world due to the Great Depression, he is impressed with the prosperity and order of German society. But when the brutality of the regime hits close, he discovers a far better way to use his contacts within the Nazi party–to feed information to the shrewd reporter he can't get off his mind.
This electric standalone novel from fan-favorite Sarah Sundin puts you right at the intersection of pulse-pounding suspense and heart-stopping romance.
ABOUT THE AUTHOR:
Sarah Sundin is a bestselling author of historical novels, including When Twilight Breaks and the Sunrise at Normandy series. Her novel The Land Beneath Us was a 2020 Christy Award finalist, The Sky Above Us received the 2020 Carol Award, and When Tides Turn and Through Waters Deep were named to Booklist's "101 Best Romance Novels of the Last 10 Years." A mother of three, Sarah lives in California. Please visit her at www.sarahsundin.com