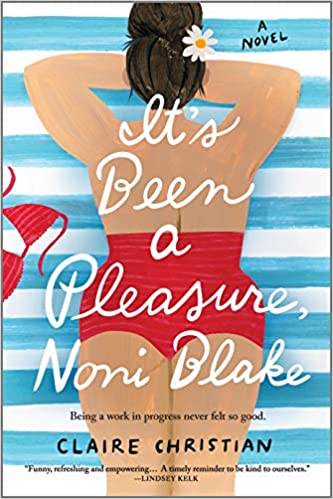 It's Been a Pleasure, Noni Blake by Claire Christian
(Preorder Here)
A sexy Eat Pray Love meets Evvie Drake Starts Over, Claire Christian's It's Been a Pleasure, Noni Blake is smart, feel-good women's fiction about learning to love yourself, in which a woman determined to own her decisions travels to Europe in the singular pursuit of pleasure—and the exes she wishes she'd been courageous enough to sleep with.
"A vibrant story of self-discovery…sure to capture readers' hearts."—Publishers Weekly, starred review
A sparkling, feel-good tale about starting over, for anyone who's spent too much of their own life making other people happy.
What if you made yourself your number one priority?
Of all the women and men Noni Blake has pleased in her life, there's one she's often overlooked—herself. After the end of a decade-long relationship, Noni decides it's time for that to change. She's finally going to prioritize her wants and desires and only do things (and people) that feel good in the moment.
As she embarks on a pleasure-seeking quest that takes her halfway around the world, she discovers that maybe she can have everything, and everyone, she's ever wanted.
Effortlessly hilarious and relatable, Claire Christian spins a fresh, uplifting story about starting over as a thirtysomething woman who's been living life for everyone else. A story of self-discovery for the ages, Noni's journey serves as a reminder that life is what we make of it—so why not enjoy it?