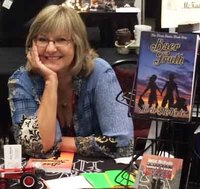 Meet The Author. Meet Jocie!
Hey y'all! A bit about me hmm? Well, I am a Midwest woman. I live on a small farm we affectionately call Dust Bunny Farm. The name speaks for itself. We are empty-nesters, parents of two amazing daughters, two son-in-laws and a pack of grands. We aren't sure how that happened, as we are clearly not old enough to be grands.
I grow lots of veggies, and I can many of them. Hey, I am the queen of jam! Family and friends gets lots of jars of goodies as gifts. I haven't had any complaints. . . yet. LOL
Hubby and I are also big travelers. We have criss-crossed the USA in our small 5th wheel RV, and I often write on the road. Lots of story ideas out there on the asphalt!
I write cozy mysteries with humor, and have penned a few romantic comedies. My snarky sense of humor spills onto the pages of my books, and usually happens both on the page, and in real life at very inappropriate places.
Right now, I'm hosting a contest for one of my short romcoms, HEART RIVER INN. Just in time for Valentine's Day. You can enter below, or you can one-click over and give it a try for just $1.99. 
HEART RIVER INN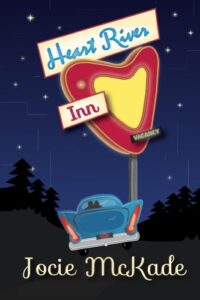 A mysterious photograph, lethal swans, gushy beds and a kitschy lovers resort in the Pocono Mountains. Can you say single woman in hell?
Lexi Sheridan is a journalist trying to climb the professional ladder and work her way into a national news organization. When a mysterious old photograph lands in her lap, it could be her 'golden ticket' to that coveted news job.
That photo leads her to the Heart River Inn, a lovers' resort nestled in the wilds of the Pocono Mountains. The resort is a kitschy place that she at first finds nauseatingly filled with fake couples in love. However, after only a few days interviewing guests, her jaded soul begins to see things with a new perspective.
At the Heart River Inn, Lexi encounters a soft-hearted owner with a secret past, a hot, seductively-sexy manager, lethal swans, attack curtains, and an assortment of couples you won't soon forget.
And….you can follow me and learn more about my books at these places::
FINDING JOCIE MCKADE!
Jocie's Website: www.jociemckade.com
Newsletter Subscribe:  https://www.jociemckade.com/contact
Jocie's Facebook page: https://www.facebook.com/JocieMcKadeBooks/
Jocie's Instagram: https://www.instagram.com/jociemckade/?hl=en
Jocie's BookBub:  https://www.bookbub.com/search?search=jocie+mckade
MCKADE'S MAVERICKS
Jocie's private reader group:  https://www.facebook.com/groups/mckadesmavericks/
Amazon Author Page:  https://www.amazon.com/Jocie-McKade/e/B00FQY8WE6
Jocie's GoodReads Page: https://www.goodreads.com/goodreadscomjociemckade