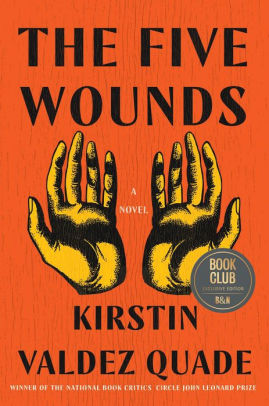 Barnes & Noble Selects Kirstin Valdez Quade's The Five Wounds as April 2021 National Book Club Selection
Readers are Invited to a Free Virtual Book Club Event Featuring Kirstin Valdez Quade in Conversation with Karen Russell on Tuesday, May 4
Barnes & Noble, Inc., with bookstores in every state across the United States, today announced The Five Wounds by Kirstin Valdez Quade as the April 2021 selection for the Barnes & Noble Book Club, a monthly book club designed for readers across the country to discuss the most compelling books. Barnes & Noble is selling a special, exclusive Book Club edition of The Five Wounds as well as hosting a free LIVE virtual event on B&N's Facebook Page with Kirstin Valdez Quade in conversation with Karen Russell, author of Swamplandia!, about the book on Tuesday, May 4, at 3pm East Coast Time. Customers can purchase the exclusive edition in-stores or online at BN.com.
"The Five Wounds spans baby Connor's first year of life as five generations of his family come together following his birth," said Jackie De Leo, Vice President, Bookstore, Barnes & Noble. "It is a beautifully rendered and tenderly humorous story about the loving Padilla family, who face life-changing obstacles with humility and heart. I am confident our book club readers will fall in love with this character-driven drama as much as we did."
Barnes & Noble invites customers to join the B&N Book Club Facebook Group to share their views of the book as well as attend the virtual Book Club event next month to hear from Kirstin Valdez Quade.
"I am beyond thrilled that my novel was selected for the Barnes & Noble Book Club! It's a dream to think of so many readers spending time with my characters," said Kirstin Valdez Quade. "I hope that readers will root for the members of the Padilla family as they help each other to become better versions of themselves and to heal old wounds. As both a reader and a writer, I'm so grateful to Barnes & Noble for everything they do for books."
The virtual event with Kirstin Valdez Quade and Karen Russell on May 4 will be hosted on Barnes & Noble's Facebook Page. Before the virtual event, customers can also join in discussion at their convenience on the new B&N Book Club Facebook group and on social media via the hashtag #BNBookClub.