The timelessness of Jane Austen with contemporary romance author Rachel John
Rachel John started her storytelling career by telling her younger sister grand tales of princesses to get her sibling to fall asleep.
Over the years, she kept telling stories through artwork and scribbling book ideas on scraps of paper, keeping her wild imagination flowing until finally, she decided to write it all out.
To date, she has over a dozen books in print and many more ideas on the way.
She loves to read anything with romance or humor, and thinks the best books should combine the two.
She's a terrible cook, but unfortunately for her family, she keeps trying. Rachel lives in Arizona with her husband, four crazy kids, and her desert tortoise.
Her latest release, Dashing Into Disaster: An Austen Inspired Romantic Comedy is a modern take on Sense and Sensibility, bringing Elinor and Edward together in an entirely new way.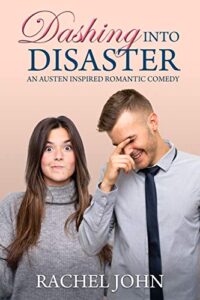 Elinor Dashwood has found the perfect job. There's only one little catch… her boss.
Edward's gorgeous, kind, and taken. Well, maybe. There's something odd about his engagement to the town's sweetheart, and it seems like he wants Elinor to figure it out.
Nope. Detective Elinor is not on the case. She'll just admire him from afar like every other sensible person with an unrequited crush.
Edward Ferrars was just fine pretending to be engaged until Elinor moved to town, started working for him, and decided to invade his thoughts. Now his fake fiancée has set her sights on Elinor as enemy number one, and Elinor is the last person who deserves to be called a homewrecker.
He's ready to call off this out-of-control favor, but if he unleashes the wrath of his fake fiancée, will Elinor be along for the ride?
Dive into this modern take on Jane Austen's Sense and Sensibility with all the characters you know and love.

You can find Rachel at her website, Amazon author page, Facebook, Goodreads, and Instagram.