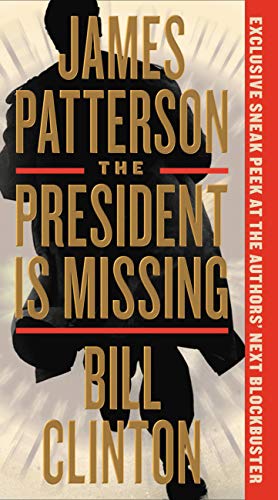 BOOK REVIEW: "THE PRESIDENT IS MISSING" BY JAMES PATTERSON AND BILL CLINTON
President Duncan is under investigation by the House leader, Lester Rhodes, for allegedly helping master terrorist, and leader of the Sons of Jihad, Suliman Cindoruk escape an attempt on his life.
Although it is true that U.S. Forces thwarted a planned attack on Suliman, the reasons behind that remain a secret except for six people within the President's cabinet.
The President's most trusted people.
The U.S.A. is under attack and President Duncan is the only person who can stop it. If he fails, this country will be crippled like never before…opening the door for it's enemies and terrorists alike to attack at will.
The threat will be carried out in a few days and Duncan needs to stop it.
And the only way he knows how to deal with this situation…..
Is to go missing….
To find out what happens, you will have to read the book. 🙂
"The President is Missing" is a fast scary tale of intrigue, terror, hate, and partisanship that could have been written yesterday, but, unfortunately was written a few years ago (which, sadly, means we are still dealing with all of this shit, thanks to that orange bastard).
This is the first time I've read James Patterson, and I wonder what the heck took me so long? He is great! Wow!!!!