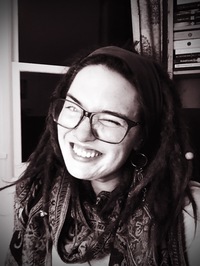 Be an Accessory to Magic with Author Kathrin Hutson on Book Lights
LISTEN HERE!
International Bestselling Author Kathrin Hutson has been writing Dark Fantasy, Sci-Fi, and LGBTQ Speculative Fiction since 2000. With her wildly messed-up heroes, excruciating circumstances, impossible decisions, and Happily Never Afters, she's a firm believer in piling on the intense action, showing a little character skin, and never skimping on violent means to bloody ends. Kathrin is an active member of SFWA and HWA and lives in Colorado with her husband, daughter, and two dogs. For updates on new releases, exclusive deals, and dark surprises you won't find anywhere else, sign up to Kathrin's newsletter at kathrinhutsonfiction.com/newsletter
And for more about our host Lisa Kessler visit http://Lisa-Kessler.com
Book Lights – shining a light on good books!
Here's a look at Kathrin's latest release THE WITCHING VAULT
Run the witching vault. Protect the Gateway. Say please. And don't get killed.
After her release from magical prison, Jessica Northwood can't hold a job to save her life. So when an apprenticeship opens up at a spellbound bank, no questions asked, she can't exactly say no… But she definitely should have.
For centuries, the bank's owners have stood between the Gateway in the upstairs hall and the occult syndicate who want it for themselves. As the current owner, the scryer witch is supposed to have that under control. But when the woman turns up dead, Jessica's employment contract now says she's the one tasked with this lethal responsibility.
Jessica has no idea what she's doing…and the bank won't let her leave. As she deals with magical clientele who know the stakes far better than she does, Jessica must decide just how far she's willing to go to keep this job. Because if she doesn't, she'll end up as dead as the body in the lobby. Or worse.