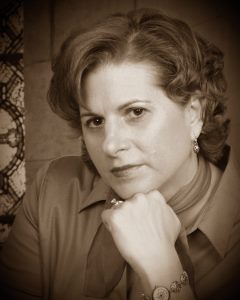 Chasing down the Pharaoh's Forgery with Mystery author Ellen Butler
Ellen Butler is a #1 International Bestselling novelist writing edgy suspense/mystery novels and sexy, sassy romance. She is the author of the award winning Love, California Style series, bestselling and award winning historical suspense, The Brass Compass, and international bestselling Karina Cardinal mystery series. Ellen holds a Master's Degree in Public Administration and Policy, and her history includes a long list of writing for dry, but illuminating, professional newsletters and windy papers on public policy.  She is a member of the Office of Strategic Services Society, Sisters in Crime, Virginia Writer's Club, and International Thriller Writers.
She is an admitted chocoholic and confesses to a penchant for shoe shopping. Ellen lives with her family in the suburbs of Washington, DC.
Connect with Elllen at: http://www.ellenbutler.net/
And for more about our host Lisa Kessler visit http://Lisa-Kessler.com
Book Lights – shining a light on good books!
Here's a look at Ellen's latest release PHARAOH'S FORGERY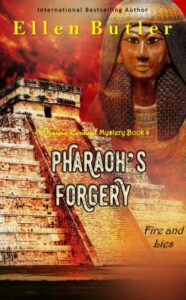 Margaritas, mayhem, and murder. Too bad her only defense is a cocktail umbrella.
After some of Karina Cardinal's recent adventures—her lover Mike Finnegan would call them scrapes, jams, or pickles—she's more than ready to blow this D.C. pop stand for a short girls' trip to Mexico. Until Jillian's roller skate wreck blows their plan out of the water. With Jilly injured and Mike working, her fellow lobbyist Rodrigo volunteers to share some sun, sand, and margaritas in Cancun. It's tough to relax, though, knowing what's in her suitcase. A package she promised to hand off to Mrs. Thundermuffin in Mexico.
Mrs. T's evasive maneuvers around Karina's questions wave more red flags than a bullfighter, leaving Karina no choice but to take a peek. Okay, so it's not a kilo of something illegal. It's an Egyptian death mask that turns out to be a magnet for crooks, conmen, kidnappers, and outright killers.
When the situation explodes into chaos, Karina and Rodrigo are lucky to have friends in the right place—at their backs. But they're in one hell of a jam. And they could be going home in something tackier than a souvenir t-shirt—more like a body bag.