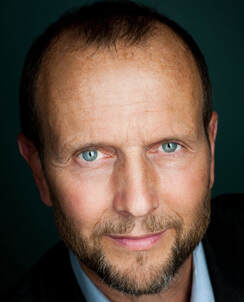 Murder on the streets of London with Author C C Humphreys
Chris (C.C.) Humphreys has played Hamlet in Calgary, a gladiator in Tunisia, and a dead immortal in Highlander; he's waltzed in London's West End, conned the landlord of the Rovers Return in Coronation Street, commanded a starfleet in Andromeda, and voiced Salem the cat in the original Sabrina.
A playwright, his plays have been produced in Calgary, Vancouver and London. He has published 20 novels including The French Executioner, The Jack Absolute Trilogy; Vlad – The Last Confession; A Place Called Armageddon; and Shakespeare's Rebel. His novel Plague won the Arthur Ellis Award for Best Crime Novel in Canada in 2015. He is now writing epic fantasy with the Immortals' Blood Trilogy, for Gollancz; the first book, Smoke in the Glass, was published in 2019. Book Two: The Coming of the Dark has now been published in the UK and Canada.
He has just published The Tapestry Trilogy set around – and through – the fabulous medieval Unicorn Tapestries in New York's Cloisters museum.
He has an MFA in Creative Writing from the University of British Columbia. He wears a unicorn signet ring and always wondered why. The Hunt of the Unicorn begins to answer that question. You can learn more at his website: http://www.authorchrishumphreys.com/
And for more about host Lisa Kessler visit http://Lisa-Kessler.com
Book Lights – shining a light on good books!
Here's a look at CC's latest release: ONE LONDON DAY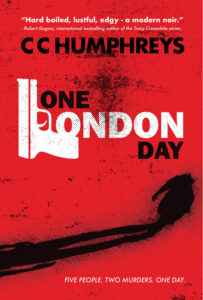 MURDER ON THE STREETS OF LONDON
July 30th 2018. It's the hottest Summer in fifty years and Joseph Severin, a respectable North London businessman, has taken on a lucrative side job. He's doing the books, old school, (because these days the only trail you can't trace is a paper one) for a rogue MI5 outfit, the Shadows, headed by clever, psychopathic Sebastien. When the game is rumbled, he sends their hitman, Mr Phipps, to kill Severin and get those books back.
For a simple man, Severin has a complicated life. He's developed a sudden and wild passion for Lottie – aka 'chaos on two legs'. Who is in love with Patrick, the next hot young black actor. Who is obsessed by Sonya, a gorgeous Russian escort. Who has one night to make the final money she needs for her daughter's cancer operation. With MI6 onto them, and the books missing, the Shadows panic. And a day that begins with a hit in Finchley ends in violence and betrayal on the steamy night streets of Portobello.
ONE LONDON DAY is a daisy chain tale of characters and connections, a contemporary  London Noir. Like that genre's 40's origins, this story has its hood, its moll, its femme fatale, its fancy boy. Everyone is both protagonist and antagonist. No one gets out unharmed – and some don't get out at all.