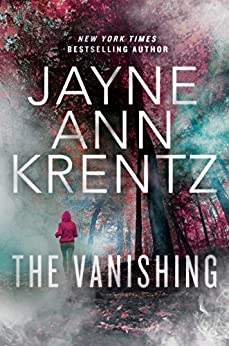 THE VANISHING BY JAYNE ANN KRENTZ
This plot begins during the cold war era and rumors about research into paranormal abilities and weapons. I love how Jayne Ann Krentz pulled from them and created the town of Fogg Lake, secret labs and agencies to police them. How hazardous accidents closed down the projects and the labs and all they learned and developed disappeared. But does anything really ever disappear?
Present day citizens of Fogg Lake and their descendants have psychic abilities, believed to be cause by one of those accidents, and a deep mistrust of the agency that was meant to police and protect paranormal information and those who are gifted with its talents. There is always some that mean to do good, and others who want to gain power who want to profit from the secrets of the past. Are the rumors true or just conspiracy? Apparently, unknown to the main heroines, Their past brings danger from those trying to capitalize on the information these secret labs may have held, and what they witnessed as teens.
Catalina Lark and Olivia LeClair are best friends from Fogg Lake. Now private investigators in the Seattle area. All they long for is someone who can love, accept them, for all they are and can do, not think of them as freaks or a way to make a profit. When Olivia Vanishes, Catalina will do anything to find her. Even if it means working with the Foundation, the agency she was raised not to trust and who had already interfered in her life giving her more of a reason not to trust. Enter Slater, who gets her, who's energy matches, attracts her own, and is someone she feels she can trust. He's perfect…The only issue is he works for the Foundation.
Slater needs to grow his trust in himself and his talents, altered after recent Psychic radiation exposure. He is not sure of his sanity. However, as Catalina's trust and their attraction to each other strengthens so does his self-awareness and own trust, especially with his need to use his gifts to protect them. They follow each other's leads and interpretation of information, during the search for Olivia and who is behind her disappearance, making a well-balanced partnership.
The story is well paced, with breath holding action, revealing information while bringing up more questions. All laced in naturally with the plot and storyline. The relationship building is appropriate to its place in the story, the physical and emotional. Although, I wish the expression of the physical recieved a little more page time. But, their relationship is so fun to experience, the chemistry, their banter and humor along with how they care for each other and their connection is so well written. In the end, I was cheering for their Happily ever after.
Many interesting and entertaining secondary characters, antagonists and protagonists, are introduced and help drive the story to its climatic conclusion and leave this world open for the next story in All the Colors of Night, wondering what other secrets Fogg Lake possesses. Yes, this eclectic reader was very happy with this read, romance suspense paranormal boxes all checked!