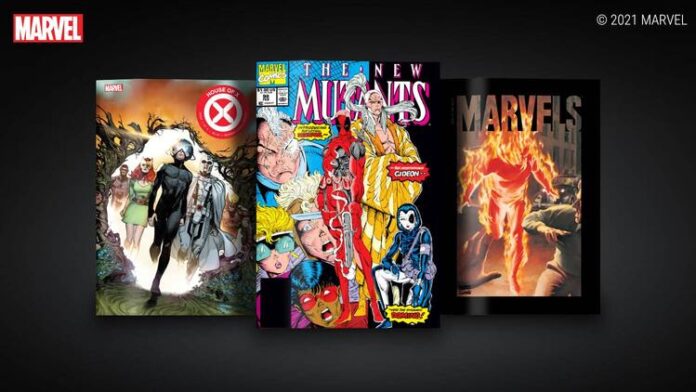 An all-new way to collect Marvel Comics, including New Mutants #98, House of X #1, and Marvels #1!
Marvel Entertainment and VeVe are back with a new round of classic Marvel Comics as NFTs!
Starting August 24, the following Marvel comic books arriving on VeVe shelves include:
Tuesday, August 24 at 8am PT: NEW MUTANTS #98
Wednesday, August 25 at 8am PT: HOUSE OF X #1
Thursday, August 26 at 8am PT: MARVELS #1
Each comic's full issue is readable within the VeVe app and sold in blind boxes for $6.99. Each digital comic book will have FIVE versions of rarity:
COMMON – Classic Cover
UNCOMMON – Vintage Variant
RARE – Hero Variant
ULTRA RARE – Vibranium Variant
SECRET RARE – True Believer Variant
Don't forget to act fast! If the Spider-Man Digital Statues, Captain America Marvel Mighty Figures, and First-Ever Marvel Digital Comic Collectibles launches are any indication, you'll want to be right there exactly on the hour!
Phineas Horton was like a modern day Prometheus, stealing fire from heavens and handing a human torch down to man. Discover the origin of The Human Torch in stunning detail.
Stay tuned for more Marvel NFT digital collectibles —  all part of a larger initiative to celebrate 'Marvel Month' on the VeVe App. Collectors can look forward to the release of other Marvel digital products such as digital statues, digital comic books and other digital collectibles on the VeVe App later in August.
The VeVe Digital Collectibles App is available on iOS and Android devices. Fans can buy and collect a variety of Marvel NFTs; trade and hunt for rare (and even secret-rare) NFT comic books and collectibles; and display their hard-earned collection through fully customizable virtual showrooms. Learn more: VeVe.me