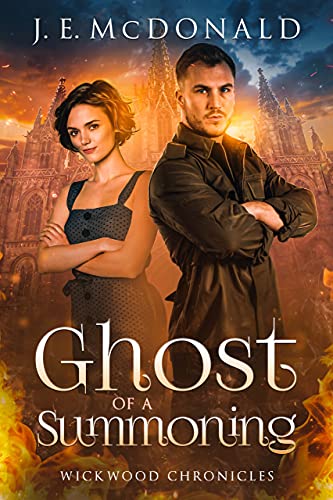 GHOST OF A SUMMONING — Wickwood Chronicles Book 3
THE PARANORMAL ROMANTIC COMEDY CONTINUES By J.E. McDonald
There's something extraordinary hidden behind Wickwood's picturesque façade…and it threatens everyone.
When a mysterious stranger turns up looking for a job, antique store owner Aubrey Karle finds it hard to resist Roman's quiet charm. But things become weird when the ghost who's been attached to her since she was a kid takes an instant dislike to the newcomer, objecting to his presence in a violent way.
Why can't she just have a semblance of a normal life?
Roman Milone has demons in his closet, literal ones. A prophecy spoken by a fallen angel brings him back to his hometown, and his world is turned upside down when he finds his next target is a sweet woman with a sexy smile and curves that go on for days. She can't be the one prophesized to bring hell on Earth, not with a soul as bright as hers.
Just as the pair give into their attraction, a powerful demon with a thirty-year-old grudge makes an appearance in Wickwood. How can Roman keep Aubrey safe when he is the one who might be the biggest threat of all?
"A whimsical romp that delivers heart, heat, and plenty of supernatural adventure-this is a stellar paranormal romance." -Kat Turner, paranormal romance author 
"McDonald's cast of supernatural characters are always impeccably crafted and leave you eager for the next installment of this delightful series."-Ashley R. King, author of Painting the Lines and Forever After
"A devilishly fun romance. Highly recommend."-Luna Joya, Author of the Legacy series
OTHER BOOKS IN THE SERIES:
Something extraordinary hides beneath Wickwood's picturesque façade… and this time it's not staying buried.
Stella Campfield might be having a string of bad luck, but she has her witch's intuition telling her it will turn around. That is until her best friend accidentally opens a portal to another dimension!
When the police arrive, she's dismayed to learn the officer she's been obsessing over is on the case. As an energy reader, she's drawn to him like no other, but she can't explain why.
And that changes everything.
When Lucas Martinez ends up on the alluring lady's doorstep because of a noise disturbance call, he is unexpectedly pulled into the world of the paranormal.
Burn marks on the floor and floating books? Nothing is as it seems.
As his attraction for the secretive witch grows, and as he digs into the mysteries surrounding her, he's even more convinced Stella is at the center of it all.
Can the unlikely pair learn to trust each other or will the sinister forces surrounding them tear their burning romance—and the world—apart?
ABOUT THE AUTHOR:
J.E. McDonald was born and raised in Saskatchewan, Canada, The Land of the Living Skies. As a child, she was either searching the clouds for identifiable shapes, or star-gazing way past her bedtime. She cut her teeth watching Star Trek, James Bond movies, and reading the Harlequin novels her mother left in the bathroom—which resulted in an extremely skewed sense of sex education by age eleven. All of these factors contribute to her love of writing rom coms with a paranormal twist, romantic suspense, and far-future romance.
J.E. resides in Saskatchewan with her husband and three daughters, a stay at home mom by day, and an obsessed writer by night.
More information about J.E. McDonald can be found at: Wickwood Chonicles | J.E. McDonald Author