A Perfect Life with USA Today Bestseller Hank Philippi Ryan 
Hank Phillippi Ryan is the USA Today bestselling author of 13 thrillers, winning the most prestigious awards in the genre: five Agathas, four Anthonys, and the coveted Mary Higgins Clark Award. She is also on-air investigative reporter for Boston's WHDH-TV, with 37 EMMYs and dozens more journalism honors. Book critics call her "a master of suspense," "a superb and gifted storyteller," and she's the only author to have won the Agatha in four different categories: Best First, Best Novel, Best Short Story and Best Non-Fiction. Her latest book Her Perfect Life released on September 14, and received starred reviews from Kirkus and Publishers Weekly, which called it "A superlative thriller."
Hank is a founder of MWA University and The Back Room; and National Sisters in Crime past president. Visit Hank online at HankPhillippiRyan.com, on Twitter @HankPRyan, on Instagram @hankpryan and Facebook at HankPhillippiRyanAuthor.
And for more about our host Lisa Kessler visit http://Lisa-Kessler.com
Book Lights – shining a light on good books!
Here's a look at her latest release THE PERFECT LIFE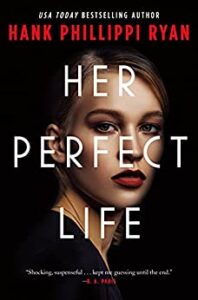 Everyone knows Lily Atwood―and that may be her biggest problem. The beloved television reporter has it all―fame, fortune, Emmys, an adorable seven-year-old daughter, and the hashtag her loving fans created: #PerfectLily. To keep it, all she has to do is protect one life-changing secret.
Her own.
Lily has an anonymous source who feeds her story tips―but suddenly, the source begins telling Lily inside information about her own life. How does he―or she―know the truth?
Lily understands that no one reveals a secret unless they have a reason. Now she's terrified someone is determined to destroy her world―and with it, everyone and everything she holds dear.
How much will she risk to keep her perfect life? And what if the spotlight is the most dangerous place of all?