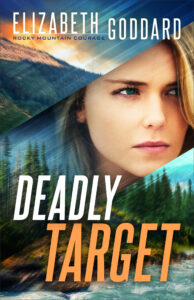 Deadly Target by Elizabeth Goddard
Crime psychologist turned podcaster Erin Larson agrees to assist a county detective—who also happens to be her ex—in finding the answers to a cold case that has suddenly warmed up. The deeper they dig the more dangerous the situation gets. The stunning truth, once revealed, will change their lives forever.
Goddard Returns to the Mountains of Montana in Cold Case Thriller
"A riveting beginning to the new Rocky Mountain Courage series, Present Danger takes readers on a wild ride …. I couldn't read the final chapters fast enough!"
—Lynn H. Blackburn, award-winning author of the Dive Team Investigations series
Ada, Mich.—In early 2021, Elizabeth Goddard kicked off her new Rocky
Mountain Courage series with Present Danger, a gripping story about hidden
crimes, open threats, and long-buried secrets. Now Goddard returns readers to
the dangerous landscapes of Montana for a roller-coaster ride filled with twists
and turns in the second installment, Deadly Target.
After surviving a near-deadly boating accident and receiving news of her
mother's attempted suicide, criminal psychologist Erin Larson decides it's time
to reassess her life. She returns home to Montana to care for her mom and
establish her career producing a podcast on cold case files—specifically missing
persons.
But Montana is not without its own dangers. And to top it all off, her exboyfriend
and the local county detective, Nathan Campbell, needs her help. Someone shot his father for looking into something he shouldn't have—but who? And why? The plot thickens and the stakes rise when the unlikely pair discovers Erin's boating accident was an intentional attempt on her life.
To find answers, they'll have to dig into a past that Erin struggles to explain and longs to forget. But can Nathan and Erin learn to trust each other and find the truth despite their painful history? Journey back to the mountains of Montana in this fast-paced, suspenseful, and emotional page-turner that will have you racing through the pages in an effort to close the case.
Deadly Target is the second book in your Rocky Mountain Courage series. Can you please provide a brief summary of this book?
A crime psychologist turned podcaster agrees to assist a county detective, who also happens to be her ex, in finding the answers to a cold case that has suddenly grown warm. As they dig deeper, the danger grows and the stunning truth—once revealed—changes their lives forever.
Each of the books in this series focuses on a different resident of Grayback county. Deadly Target features Erin Larson. Can you please tell us a little more about her character?
Erin became a criminal psychologist to try to answer the question why. Why do people commit crimes? She's driven to find the answers because of her tragic past.
Nathan Campbell is the other protagonist in this story, along with Erin, and they have history. How is he connected with Erin and why didn't their relationship work the first time?
Both Nathan and Erin have careers that focus on crime, only from different angles. Nathan puts criminals away and Erin analyzes their minds. Their paths crossed until they finally acted on their mutual interest in each other and tried to have a relationship. But Erin carries dark secrets that she has shared with no one, and Nathan knows she's hiding something. She can't truly open up and love until she's free from her past.
When Erin returns, she discovers more trouble awaits in her hometown than what she left behind. Can you tell us about some of the obstacles she'll have to deal with in this story?
Erin returns because her mother allegedly tried to commit suicide, so Erin wants to stay with her and watch out for her. But returning also means running into her old flame, Detective Nathan Campbell. When his father is shot, she's drawn back into his life to help him search for answers.
Big Rapids, Montana, has a lot of significance for all the protagonists in this series. Can you remind readers what events inspired the series title, Rocky Mountain Courage?
Three main characters are tied together by a shared tragedy that occurred during their teen years when their loved ones were killed by an avalanche while on a SAR mission. This team of searchers gave the ultimate sacrifice to help others. A memorial was established honoring their "rocky mountain courage" and remains near the base of the mountain on which they died.
Why did you choose Erin's occupation to be a criminal psychologist, and what kind of research was required to write her story?
I've always found criminal psychology fascinating and wanted to write a character with such a career. A criminal psychologist can work in a variety of capacities, and I enjoyed learning more about what Erin might do through books I read about criminal psychology.
What do you hope readers take away from reading this book?
Erin and Nathan both had to walk through "the valley of the shadow of death," if you will. But they did exactly that—they walked through. They kept going despite the trials and dangers. God was with them through it all. He brings beauty from ashes and works for the good of those who love him. In the end, Nathan and Erin both find the answers they're seeking, and they find each other. That is much more than a silver lining, as Nathan says; it was a gift from God.
What are you working on next?
I'm wrapping up writing the third installment of Rocky Mountain Courage
How can readers connect with you?
ElizabethGoddard.com
Facebook author page: http://www.facebook.com/elizabethgoddardauthor
Facebook reader's group: https://www.facebook.com/groups/371401767951/
Twitter: @bethgoddard
Instagram: http://instagram.com/elizabethgoddardauthor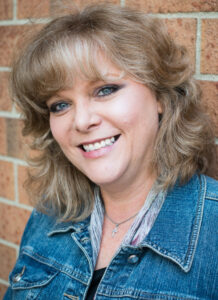 Elizabeth Goddard is the USA Today bestselling and award-winning author of more than fifty novels, including Present Danger and the Uncommon Justice series.
Her books have sold over one million copies. She is a Carol Award winner and a Daphne du Maurier Award finalist. When she's not writing, she loves spending time
with her family, traveling to find inspiration for her next book, and serving with her husband in ministry. For more information about her books, visit her website at
www.ElizabethGoddard.com.